Revealed: Why Anne Hathaway and James Franco 2011 Oscars Failed
KEY POINTS
David Wild said it was the "most uncomfortable blind date"
Wild considered the 2011 Oscars as an "incredibly dark significant comic event"
He revealed James Franco wasn't the first choice to host the event
Anne Hathaway and James Franco hosted the 2011 Oscars and to date, it has been considered as worst Oscars by many outlets. Viewers, media, and the hosts themselves blamed various aspects of the show.
However, one of the writers for the 2011 Oscars, David Wild, revealed what happened behind the scenes. "It was like the world's most uncomfortable blind date between the cool rocker stoner kid and the adorable theater camp cheerleader," Wild told The Ringer. "I call it an incredibly dark significant comic event in my life."
The 42-year-old actor blamed the writing at that time, but the 59-year-old writer has a different story to tell. Wild explained that the Oscars' first unofficial choice was Justin Timberlake to host the show.
"I had been writing with Justin and I remember the producers said to me, 'Do you want to do a soft ask if he'd host the Oscars?'" Wild said and noted that Timberlake was interested. "He said that he'd love to do it, but he thought it was a year too early for him."
"He wanted to wait until after 'The Social Network' had gone through an awards season," he explained. The David Fincher directorial history drama received eight nominations and won three awards in 2010.
One of the show's organizers, Jordan Rubin, revealed the tension between Franco and Hathaway at that time.
"She showed up ready to play and committed 110 percent," he said. "And he was a great guy but often looked like he had just woken up from a nap. It's almost like you're showing up to a tennis court and one person decided that they were going to play in the US Open and the other wanted to play in jeans and just kind of hit a few balls."
Another writer, Megan Amram, also chimed in, noting, "I thought that it sounded at the time like someone had run pop culture through an algorithm and spit out this thing on paper that sounded like it would appeal to the youth. But in practice, it was very random."
Hathaway will be seen in the movie "Oxygen," which is slated for release on May 12. On the other hand, Franco directed "Bukowski," which is currently under post-production.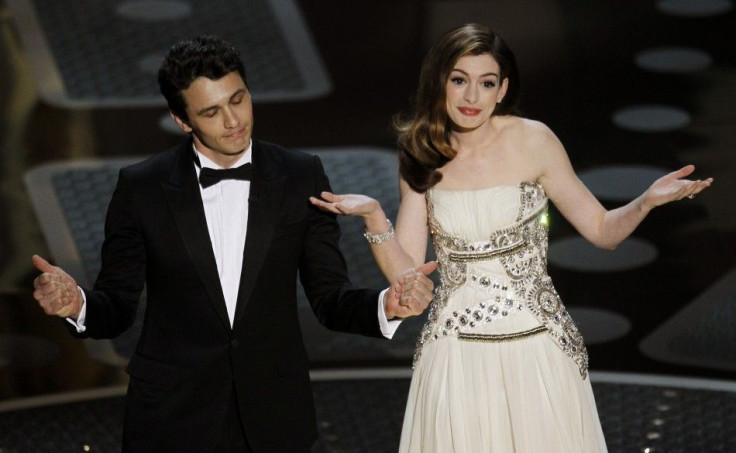 © Copyright IBTimes 2023. All rights reserved.