Rich Piana's Girlfriend Chanel Jansen Gives Coma Update On Instagram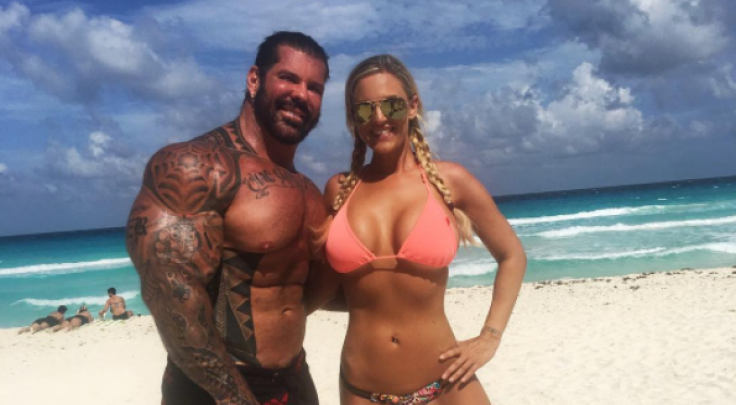 Chanel Jansen, the girlfriend of superstar bodybuilder Rich Piana, took to Instagram Monday to provide an update. The fitness model revealed Piana was still recovering after he was placed in a medically induced coma last week after he passed out in his Florida home.
"If you'd like to send [Piana] positive vibes, well wishes, prayers, or some motivation during his recovery please feel free to call and leave a message," Jansen wrote. "I'll be playing them for him."
At the end of the post, she added multiple hashtags about remaining positive.
The fitness model said fans could call 1-855-845-4982 if they wanted to send the bodybuilder their well wishes. She promised to play the recordings for Piana.
She said she would make sure only the positive messages were heard by her boyfriend. "I'm well aware there are some sick f---tards out there-the messages are being filtered through before I play them for Rich," she wrote.
The post was liked hundreds of times by Jansen's 78,000 followers.
She issued her first response Friday after rumors erroneously claimed Piana died. "I will not be posting any updates after this until further notice. I just want to be clear [Piana] is STILL ALIVE. All myself and his family are asking for is POSITIVE thoughts, prayers, and love. PLEASE I'm BEGGING you all to have some respect and realize how EXTREMELY difficult this is for us," she wrote. "Thank you to all of you staying positive and sending well wishes, prayers, and love. We appreciate it more than you will ever know."
Piana, 46, has been open about his steroid use. In fact, he's been doping for more than 20 years. He once said that it was necessary to juice if someone was going to be a professional bodybuilder.
"If you have the choice to stay natural or do steroids, stay natural. There's no reason to do steroids, you're only hurting your body, you're hurting yourself," he said in an April 2016 YouTube video. "If you want to become a professional bodybuilder, guess what – you're probably going to have to f---in' do 'em. You're not going to have a choice."
Medical professionals who tried to revive Piana discovered twenty bottles of testosterone, but the steroids might not have been the reason he fell unconscious. First responders also found white powder, a credit card and a straw, TMZ wrote Saturday.
They administered two doses of Narcan, which is used to treat people who overdosed on opiates. Jansen said she knew he previously was addicted to opiates, but said he was likely clean now.
Jansen was the only person from Piana's camp to speak out about his health.
Follow me on Twitter @mariamzzarella
© Copyright IBTimes 2023. All rights reserved.