Richard Spencer Kicked Out Of CPAC: Republican Event Shuns Alt-Right Leader Often Compared To A Nazi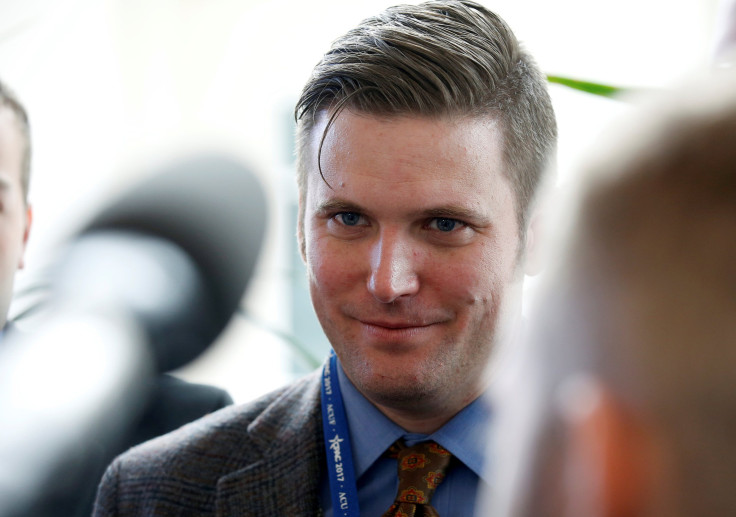 After briefly speaking to reporters at the 2017 Conservative Political Action Conference, more commonly referred to as CPAC, alt-right leader and white supremacist Richard Spencer got the boot, joining fellow inflammatory speaker Milo Yiannopoulos on the event's sidelines.
Referring to an incident on a street at the Jan. 20 inauguration of President Donald Trump in Washington D.C., in which an unidentified assailant punched him in the side of the head mid-interview, Spencer said he felt "welcome" at the conservative conference held in National Harbor, Maryland, from Wednesday to Saturday, because "nobody's punching" him, according to reporters.
As journalists covering the event engulfed Spencer, who heads the white nationalist National Policy Institute, based in Arlington, Virginia, he reportedly said President Donald Trump better represented his nationalist brand of Republican politics than the traditional views embraced by the conference.
Then, as New York Magazine Washington correspondent Olivia Nuzzi questioned Spencer just after 8 a.m. Thursday in what appeared to be a lobby, security guards escorted him out.
As a CPAC organizer reportedly told Gabby Morrongiello of the Washington Examiner, the American Conservative Union found Spencer's views "repugnant," ordered him out of the event and offered to repay him for his ticket.
Earlier in the morning, Spencer himself had taken to Twitter in what appeared to be an attempt to rile the conservative leaders and activists who convened for the annual event's second day, writing that Republican icon and former President Ronald Reagan "is dead, and we killed him," using the hashtag #CPAC2017.
Spencer gained notoriety over the past year as a leading voice in the alt-right movement, referencing Nazism and declaring that the U.S. belonged to white people in a pro-Trump speech in late November.
Breitbart News — an alt-right website formerly run by Stephen Bannon, Trump's chief strategist — has referred to Spencer as an "intellectual."
© Copyright IBTimes 2023. All rights reserved.