Rick Ross-Birdman Beef: 'Idols Become Rivals' Rapper Has No Respect For Baby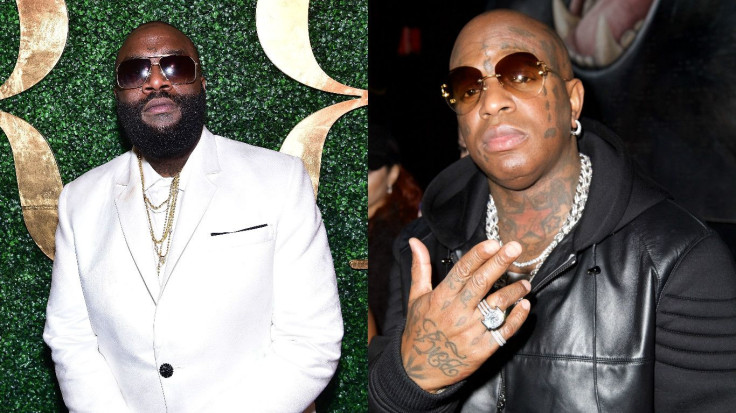 Rick Ross is not letting his feud with Birdman, also known as Baby, die down anytime soon. After releasing his diss song "Idols Become Rivals," the rapper has now revealed that he has no respect for the Cash Money Records co-founder.
Speaking with Atlanta radio station Hot 107.9, Ross reiterated his disdain for Birdman, especially because of the way he treated DJ Khaled — something Ross rapped about on the "Rather You Than Me" song.
"I just felt it wasn't right, you know what I'm saying? Khaled is a great dude," Ross said. The rapper went on to imply that while he had seen Birdman do things he didn't like, he didn't step in until Baby allegedly mistreated DJ Khaled.
"If you burn those two [Khaled and Lil Wayne], I already know know how you feel about me, and I just don't respect it," Ross continued. "I just felt like it was time for somebody to let homie know that ain't gangsta, and you know, you won't be respected no longer. I won't let nobody respect you around me."
Ross also made sure that listeners knew "Idols Become Rivals" wasn't a diss track, instead calling it a "clean your face" song — meaning he only wants Birdman to realize the wrong he has done. On the song, Ross rapped, "I pray you find the kindness in your heart for Wayne / His entire life, he gave you what there was to gain."
As for Birdman, he doesn't appear to be stressing the song. Earlier this month, he told Billboard he doesn't get caught up in those things. "I just keep doing what I'm doing and keep pushing. I don't get caught up in that, I don't play like that. I'm a man, and I stand my ground and I do my thing. Numbers don't lie."
© Copyright IBTimes 2023. All rights reserved.