Rick Santorum: I Don't Believe in 'Absolute' Separation of Church and State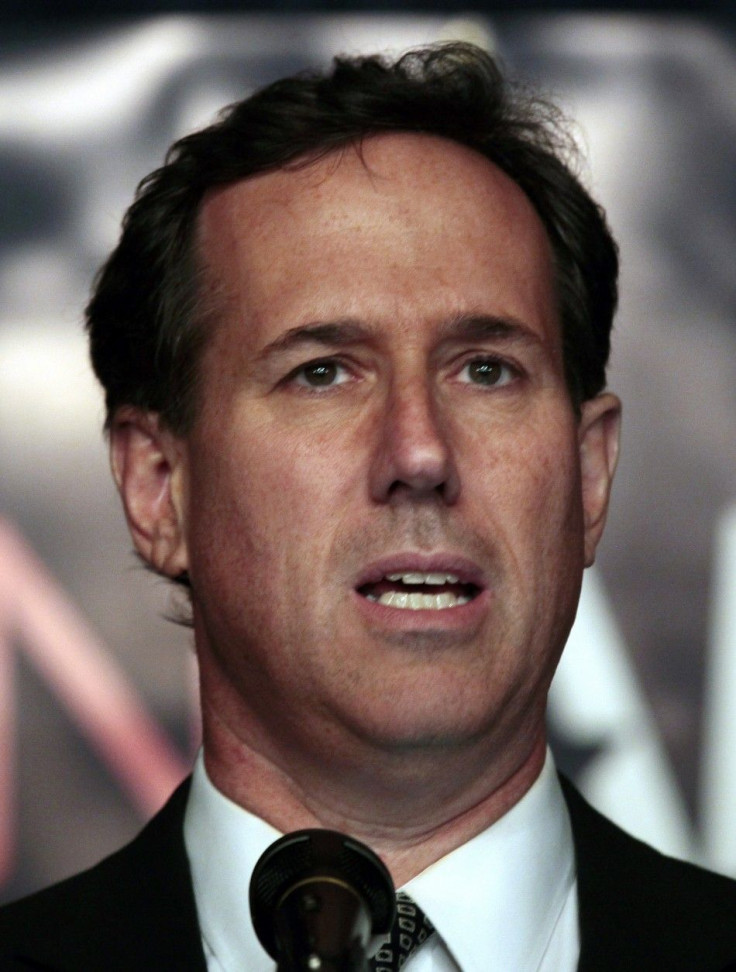 Republican presidential hopeful Rick Santorum doesn't believe in an America where the separation of church and state is absolute, he said Sunday, two days ahead of the Michigan and Arizona primaries.
The former Pennsylvania senator was defending a comment he made in the past and brought up again by ABC's George Stephanopolous on This Week Sunday morning. Santorum had said John F. Kennedy's famous speech to Protestant ministers in Houston in 1960, as he ran to become the first Catholic president, made him want to throw up.
The idea that the church can have no influence or no involvement in the operation of the state is absolutely antithetical to the objectives and vision of our country, Santorum said.
Santorum, known for his strong social conservative views, and former Massachusetts governor Mitt Romney have been competing for favor in Michigan and Arizona for the past week. National polls had the ex-Pennsylvania senator up to 10 points ahead of Romney, but the numbers have narrowed to a dead heat in most recent surveys.
During his time in the spotlight, Santorum has been defending a number of strong statements he's made about religion. When Santorum said he called President Barack Obama's ideology phony at a campaign stop on Feb 18, he said he meant the president's liberal views. When reporters dug up a speech in which he said Satan is attacking the great institutions of America, he vowed to defend everything I say.
In addition to what he said about JFK's speech on Sunday, Santorum stood by comments he made about Obama being a snob for wanting all Americans to go to college and claimed the president shouldn't have apologized for what U.S. officials said was the accidental burning of Qurans at an Afghanistan base.
The entire transcript from This Week can be read here.
Santorum's chances won't be helped by Arizona Gov. Jan Brewer, who officially endorsed Romney Sunday morning on NBC's Meet the Press. Romney also has the endorsement of Michigan Gov. Rick Snyder.
As of now, this Tuesday's results are still difficult to predict. Santorum and Romney are still head-to-head in the polls and a governor's endorsement doesn't mean a sure win. Romney had Gov. Nick Haley's endorsement in South Carolina, but the Massachusetts Republican lost to Newt Gingrich in that state.
Santorum's appearances on Sunday morning talk shows may be rare, but he has done the weekend gig more often than his main rival. On NBC's Meet the Press, on which Santorum was also a guest, David Gregory called the former Massachusetts Republican for continuing to turn down invitations to be interviewed on the show.
One note to the viewers, because it comes up on social media from time to time, Gregory said, we have had a longstanding invitation to have mitt Romney on the program, and up until now he has declined. We certainly hope he will change his mind and come on for an interview in the course of the primary process.
© Copyright IBTimes 2023. All rights reserved.