RIIZE Fandom Name Is 'SUNZ' And Some Fans Are Not Happy; Cites Controversial Meaning
KEY POINTS
RIIZE officially made its highly-anticipated debut on Sept. 4, Monday
During RIIZE's debut showcase, the group revealed its official fandom name, SUNZ
It was selected among three final choices from the fan submissions
Some RIIZE fans shared their worries about how the group's official fandom name, SUNZ, can be turned into something controversial.
On Monday, during RIIZE's debut showcase, the members revealed that SUNZ won the vote over WIISH and BRIIZE, the other final choices for their official fandom name. SUNZ means sun. Like the sun, the fans will always shine brightly on RIIZE and grow with the group like the sun in the sky.
While the meaning of the selected fandom name was clearly explained, other fans pointed out that using RIIZE and SUNZ together can end badly.
Putting RIIZE and SUNZ together may sound similar to "rising sun," the name of the flag used by the Japanese during wars. Koreans, who have been colonized by Japan and impacted by its militarism and imperialism reportedly compare the Japanese rising sun flag to the Nazi swastika.
This controversial interpretation brought worry to some fans and netizens.
"Put them both together, and what do you get? K-Pop fans and companies never think [two] steps ahead, and we end up with things like fandom names related to fascism," tweeted one user. "Someone at SM is gonna be catching hell once this makes it to the Korean media awareness, 'cause how do you name a group with a Japanese leader RIIZE (pronounced Rise), name the fandom SUNZ, and not think about how it would go over publicly in a former colony of imperial Japan?!?" she further explained.
"[O]nce RIIZE (Rise) and SUNZ (Sun) are together, it's [way] too close to [the] rising sun, which is the flag Japan used during WWII during their invasions of other countries (Korea included) + RIIZE has a Japanese member in it as well, so this is... incredibly stupid of SM to do," commented another.
Meanwhile, other fans liked the winning fandom name and were happy it got selected over the other two final choices.
"SUNZ is a very cute name," said one fan, while another quipped, "Oh, we're free from BRIIZE."
"Voting using different accounts was worth it!" a different fan tweeted; another stated, "SUNZ, [I] love this name so much!"
RIIZE, SM Entertainment's newest boy group since forming NCT in 2016, is composed of seven members: Seunghan, Wonbin, Sohee, Sungchan, Shotaro, Anton and Eunseok.
The group made its highly-anticipated debut with the release of its debut single, "Get A Guitar," which is accompanied by the release of the music video of the album's title track of the same name.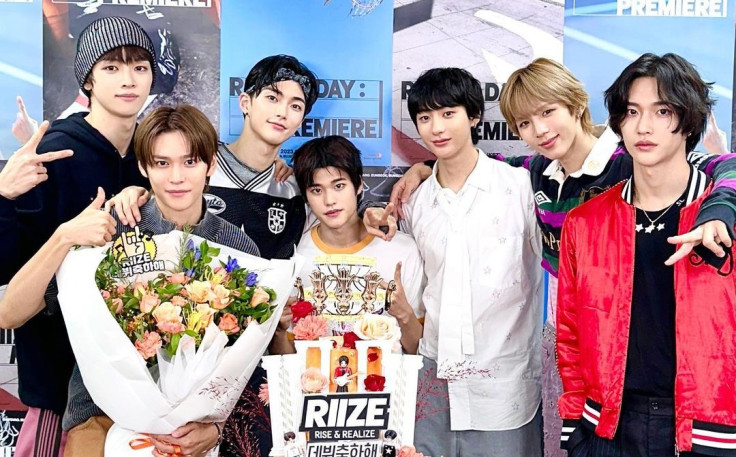 © Copyright IBTimes 2023. All rights reserved.