RIIZE Signs Partnership Deal With Justin Timberlake And Shakira's Record Label
KEY POINTS
SM Entertainment's new boy group RIIZE had a press conference in Seoul on Monday
The group revealed who it partnered with for the release of its debut single, "Get A Guitar"
RIIZE is SM Entertainment's newest K-Pop boy group since forming NCT in 2016
K-Pop boy group RIIZE, which recently made its debut Monday, held a press conference in Seoul and met fans and members of the press for the first time.
At the press conference, RIIZE's seven members, Shotaro, Eunseok, Sungchan, Wonbin, Seunghan, Sohee and Anton, revealed that their debut single, "Get A Guitar," would be released in partnership with SM Entertainment and RCA Records, one of Sony Music's flagship labels, per Forbes.
RCA Records' artists include big names in the music industry, including Justin Timberlake, Shakira, Doja Cat, Britney Spears, Christina Aguilera, H.E.R., Becky G, Khalid and Pink, among many others.
RCA Records is also home to RIIZE's fellow K-Pop band ATEEZ.
RIIZE's partnership deal with RCA Records not only secures the group a well-prepared debut but also offers promise for the group's overseas success.
"RIIZE [members] are incredibly talented and versatile artists, and we are excited to welcome them to the RCA Family and work together with the amazing SM team," shared Peter Edge, RCA Records Chairman and CEO, per Forbes.
Meanwhile, its COO, John Fleckenstein, said, "RIIZE [is] set to break new boundaries in global pop with an entirely fresh perspective. We are proud to partner with the incredible team at SM Entertainment and their incredible track record of artist development."
RCA Records' COO positioned RIIZE as a "global pop act," approaching the group's career with an international mindset.
RIIZE, SM Entertainment's newest K-Pop boy group since forming NCT in 2016, made its highly-anticipated debut with the release of the group's debut single, "Get A Guitar," which is accompanied by the release of the music video of the album's title track of the same name.
"Get A Guitar" showcases a fresh, "bubblegum-pop" sound more aligned with Western pop music than some of RIIZE's more experimental K-Pop counterparts, per Forbes.
The "Get A Guitar" music video already surpassed over 3.8 million views on YouTube in just 17 hours from its premiere.
Meanwhile, before the group's album release, RIIZE hit an impressive milestone by garnering a total of 1,032,144 million album pre-orders, making it a "high-speed million seller."
RIIZE's "Get A Guitar" album features two songs: a song of "inspiration" with the same name and another track titled "Memories." Both songs highlight lyrics that portray RIIZE's experiences while preparing for its debut and feature a unique and fresh genre called "emotional pop."
Fans can listen to the tracks on RIIZE's debut album here: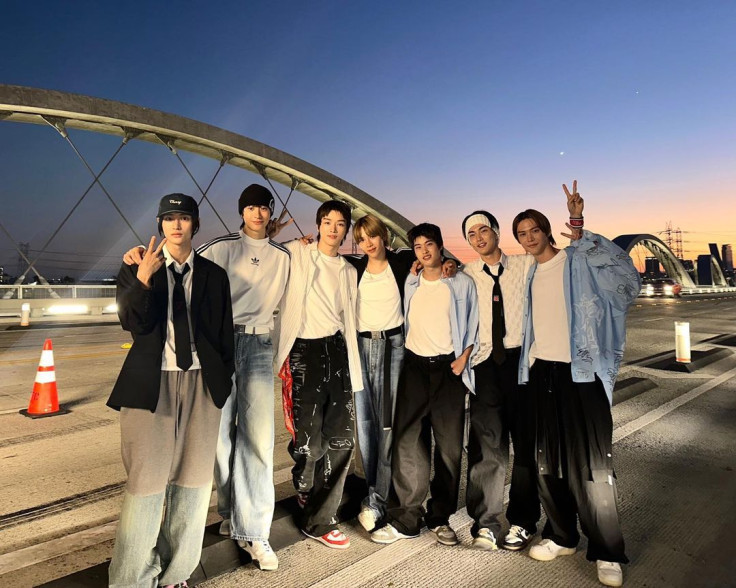 © Copyright IBTimes 2023. All rights reserved.