RIM In Play: 5 Prospective Bidders For BlackBerry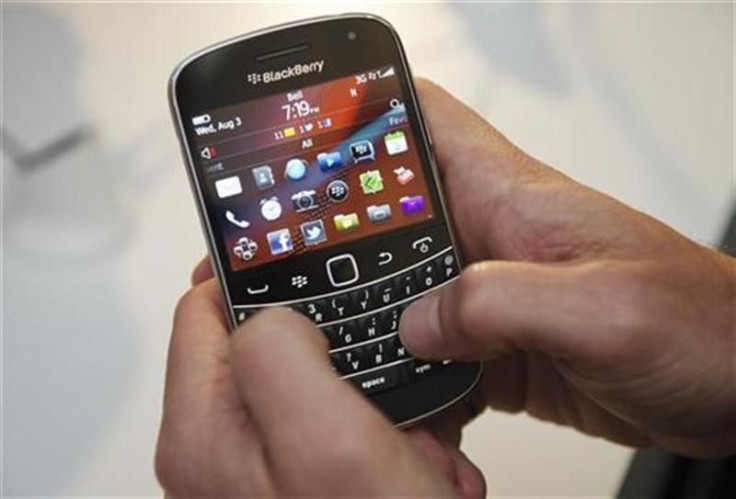 Now that Canadian telecommunications powerhouse Research in Motion (Nasdaq: RIMM) has a new boss and a new outlook, the BlackBerry developer is in play.
Between its 2,441 patents and 3.948 patent applications, RIM has a rich library that CEO Thorsten Heins said last week might be valuable to license or auction, a big change from his precedessors, Mike Lazaridis and James Balsillie, who remain major shareholders but have been removed from management.
Another prospect is selling the Waterloo, Ontario company completely, something else that Heins, 54, said is possible.
After RIM reported a record fourth-quarter loss of $125 million, or 24 cents a share, on revenue of only $4.19 billion, major shareholder Victor Alboini, who galvanized opponents of prior management to act, predicted, The company, as we know it, won't be around in a year.
Trading Wednesday around $12.82, RIM's market capitalization is $6.72 billion, a huge discount from the nearly $17 billion of a year ago.
Who might be interested in acquiring RIM? Here are five prospective bidders:
Cisco Systems, (Nasdaq: CSCO), the world's biggest provider of Internet equipment which is making a huge bid for Cloud computing, or Internet-based computing that relies upon distributed centers.
Cisco is huge in the enterprise market and got into consumer electronics via its purchase of Scientific-Atlanta, which provides set-top boxes to Verizon Communications (NYSE: VZ) and other cable operators.
The attraction to Cisco, of San Jose, Calif., would be RIM's 78 million BlackBerry subscribers, mostly in the enterprise sector, such as U.S. President Barack Obama. Heins promised to focus on this highly desirable market.
Cisco reported cash and investments above $48.6 billion for the second quarter ended Jan. 28. Last month, it announced plans to acquire privately held NDS of the UK for $5 billion.
Microsoft (Nasdaq: MSFT), the No. 1 software developer. The Redmond, Wash., company is rolling out Windows 8 with a major foray into mobile platforms, having signed up Finland's Nokia (NYSE: NOK) and other hardware companies.
Microsoft would share the same interest as Cisco in acquiring RIM's core audience on the move as it owns them already at the desktop. Over time, it surely would swap out RIM's proprietary OS for Windows.
Last year, Microsoft allied with RIM and others to buy $4.5 billion worth of patents from defunct Nortel Networks, its top people should have a good idea what's needed.
Buying RIM and the BlackBerry might make Microsoft a major rival of Apple (Nasdaq: AAPL) in the smartphone and tablet sector, where sales of iPads skyrocket ahead of PlayBooks.
Microsoft's cash and investments: $51.7 billion.
IBM (NYSE: IBM), the No. 2 global computer services provider, which also would covet the enterprise mobile base. In the 1980's, IBM was a minority investor in the ill-fated Satellite Business Systems and then in MCI Communications.
However, for more than a decade, the Armonk, N.Y. computer maker has been withdrawing from the consumer market. Surely CEO Virginia Rometty wouldn't want to get IBM into designing mobile phones and tablets again. But who knows? IBM last quarter started to sell software that provides security for tablets.
IBM had cash and investments of $11.92 billion, which could make a RIM takeover too expensive.
Dell (Nasdaq: DELL), the No. 3 global PC maker and No. 2 in the U.S., has basically gone nowhere in the mobile business and might want to own the BlackBerry brand. Dell is an excellent marketer with strong new growth in developing markets and a good grip on the enterprise market, where it sells PCs, servers and services.
Dell, though, may prefer to keep going upmarket. This week, it announced plans to acquire Wyse Technologies, the San Jose, Calif., manufacturer of thin drives, for a reported $1 billion.
Last month, the Round Rock, Tex., PC giant said it planned to buy private SonicWall, a security products company, for as much as $1.5 billion.
Maybe the BlackBerry network would tickle the ego of CEO Michael Dell, 47, who started selling PCs as a teenager.
Dell reported cash and investments exceeding $18.2 billion for the fiscal year ended Feb. 3.
SAP (NYSE:SAP), Europe's biggest enterprise software company which might find a German CEO like Heins appealing. SAP, too might find the mobile market for the enterprise appealing, especially as more and more software is integrated.
To be sure, SAP's arch-rival, Oracle (Nasdaq: ORCL) has still not achieved the full benefits of acquiring Sun Microsystems in 2010, which put it into the server market and also brought some consumer applications with Java and Open Office to compete against Microsoft Word.
SAP, which reported cash and investments of 5.6 billion Euros (US $7.4 billion) last quarter, may not have the muscle to pull off a solo deal, though.
© Copyright IBTimes 2023. All rights reserved.
FOLLOW MORE IBT NEWS ON THE BELOW CHANNELS