Rima Fakih Arrested for DUI: Miss USA Has History of Scandals [PHOTOS]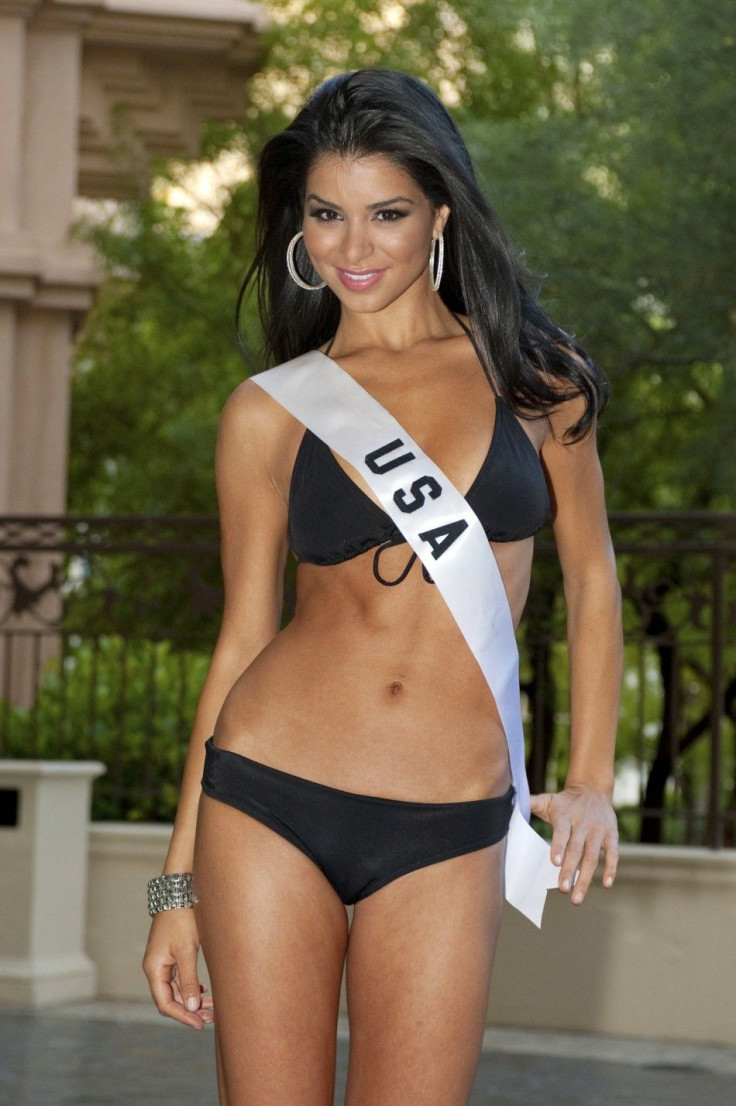 Rima Fakih, 26, was arrested in Highland Park, Mich. with twice the legal limit of alcohol in her system. But it's hardly the first time the former Miss USA has been embroiled in controversy.
At first Fakih, Miss USA 2010, tried to deny that she was arrested on Dec. 3 for driving drunk. Let's clear things up now, she tweeted. I'm NOT in Michigan and I'm NOT in jail! Wrong Fakih.
Unfortunately for Fakih, nobody bought the idea that it was a case of mistaken identity. The Twitter post has since been deleted, and her attorney Doraid Elder has confirmed the arrest.
[Rima Fakih] is very saddened and apologetic for the situation she is in right now, Elder told reporters. This shouldn't be something that defines who she is.
Past Controversy: Stripper Contest Hits Internet

Doraid Elder has defended his client, who was the first Miss Michigan to win Miss USA since 1993 and the first Arab American ever crowned, as a model citizen and role model. He released a statement on Dec. 4 saying her record has not a single blemish.
Legally, this appears to be the case. As anyone who's followed Rima Fakih's career knows. however, her tenure as Miss USA and her activities since have excited controversy in the past.
Before she was arrested for a DUI, Rima Fakih was caught up in another scandal, one that frequently dogs beauty pageant winners: a stripping scandal.
While Miss Universe and Miss World contestants have frequently found themselves targeted for nude photos, Fakih was caught up for joining a stripping contest for a Detroit radio station.
Mojo in the Morning, on Detroit's Channel 955, held a Stripper 101 contest in 2007. Fakih won first prize for a pole dance routine after the judges, who were all professional strippers, taught contestants the tricks of the trade.
Though the contest was female-only, and Rima never removed any clothing during the event, Fakih was slammed for being a bad role model. She came away from the pole dancing contest with jewelry, gift cards, adult toys and a stripper pole for home use.
Scandal Within Miss USA Pageant
Rima Fakih was slammed again for a series of racy lingerie photos reported to Fox 411's Pop Tarts column, but this was a move sponsored by the Miss USA contest itself.
In the shots, Fakih and her fellow contestants showed off lacy lingerie and fishnets, knee-high boots and stilletos, and ample cleavage paired with seductive, smokey eye makeup. The models even posed on a large bed for the photo shoot.
Donald Trump, who runs the Miss USA pageant, defended the sexy shots, and pageant officials claimed the shots were tasteful. Some organizations, however, slammed Miss USA for promoting the sexual allure of the contestants over the typical emphasis (swimsuit competition nonwithstanding) of wholesome beauty and ambitions, especially when one contestant, Miss Texas, was only 19 years old.
The Miss USA-backed move even got backlash from within the pageant circuit itself. Paula MIles, the state director of the South Carolina, North Carolina and Louisiana Miss USA pageant, said she received distressed phone calls from two of the contestants just before the lingerire shoot, saying they were scared and uncertain about the photo shoot.
They were concerned, knowing that they had to participate in order to be competitive, Miles said. She was an outspoken opponent of the move, which she said cheapened the pageant.
We have to be broad-based and have an open mind, but we run our business as a wholesome, family, basic experience, she said.
'I don't want to see my Miss California working in fishnets on top of a bar.'
California's state director Keith Lewis had no problem with the photos, saying they made an important distinction between the scholarship-based Miss America and Miss USA, which he described as a feeder contest for Miss Universe. We go off and compete against Miss Venezuela and Miss France, countries that are progressive in their fashions and acceptance of sexier looks, he said.
At the same time, however, Lewis said the photos had to be sexy without being scandalous, a line he believes Miss USA has drawn. We are mentoring young woman and need titleholders with a strong moral character who know the difference between what we're trying to sell in an image and what happens in real life, Lewis said. I don't want to see my Miss California working in fishnets on top of a bar.
Does Miss USA Encourage Inappropriate Behavior?
There is, of course, a world of difference between posing in a lingerie shoot and being arrested for a DUI. Fakih's actions are far more serious, both in her position as a role model and the safety of others, than any pole dancing contest pr risque photo spread.
Still, the number of controversies surrounding pageant contestants, especially from Miss USA and Miss Universe contestants, only seems to be growing.
Several Miss Universe contestants were criticized this year for wearing evening gowns that were almost see-through on stage. Miss Arkansas Teen, one of the many teen pageants that prep girls for Miss USA, saw its 2010 winner arrested for public intoxication at age 19 last year.
Carrie Prejean (Miss California 2009) was slammed by media outlets for topless underwear shots leaked that year, and another former Miss USA, Tara Conner, has become something of a poster child for Beauty Queens Gone Bad, with reports of excessive drinking and drug use surfacing the year she won the Miss USA title in 2006. A fellow 2006 contestant, Miss Nevada Katie Rees, was also busted for being part of a quasi-legal escort service whose photos hit the Internet during the competition.
Donal Trump and pageant officials continue to defend the Miss USA pageant and its older sister Miss Universe as a wholesome production based in celebrating female beauty and accomplishments. As Rima Fakih's DUI gains more and more media attention, however, it may be time for those running Miss USA to ask who they're giving the crown to, and what message the pageant is sending.
© Copyright IBTimes 2023. All rights reserved.
FOLLOW MORE IBT NEWS ON THE BELOW CHANNELS