Rio De Janeiro Embeds QR Codes Into Sidewalks So Tourists Won't Get Lost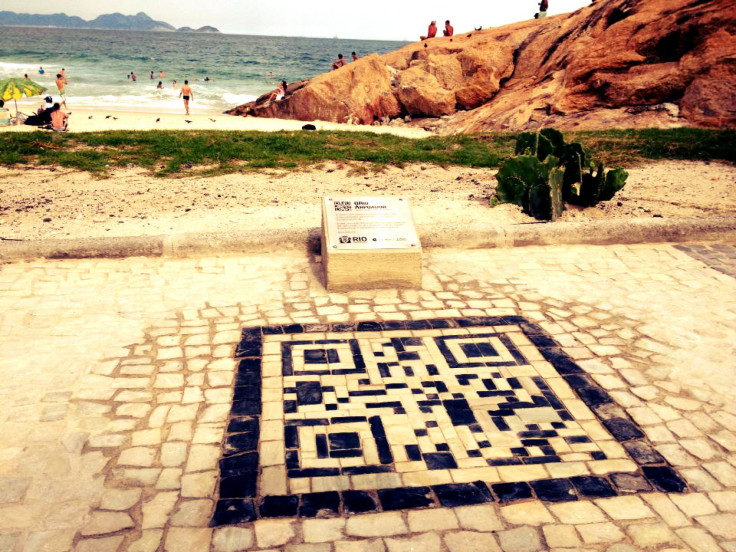 Rio de Janeiro is known for its sidewalk mosaics, but last week the city took things one step further by fashioning the stones into black-and-white barcodes designed to help tourists find their way around.
The city installed its first QR code Friday at Arpoador, the massive boulder that separates Copacabana and Ipanema beaches. Pavers embedded the barcode into the sidewalk just like the decorative waves and fish nearby, and it can be scanned by anyone who downloads a QR code app to their smartphone. Once photographed, the symbol prompts a screen to pop up with a map and instant tourist information like tips, historical facts and photos -- all of which is available in Portuguese, Spanish or English.
The Department of Conservation said it plans to implement the co-called QRIO project at 30 locations across the city by the year's end and 50 locations by July 2014 when Rio hosts the FIFA World Cup.
"We were able to associate the Portuguese stone to a cool technology that is the QR code," the municipal secretary of conservation, Marcus Melchior, told Epoch Times. "The Project QRIO will disseminate culture and knowledge for all citizens and all tourists who come to visit. ... And there is a great possibility to expand the project."
Melchior added that the barcodes could be used not just at attractions, but for major events in town.
The QRIO project is a public-private partnership between the Secretariat of Municipal Conservation, PR firm Grupo Maquina and digital technology agency Zoio.
Zoio founding partner Sidney Haddad told the Epoch Times that his company "tried to create something with that essence of being cosmopolitan, but with strong cultural roots."
"We propose to map the city with QR codes, meaning that you can access information of that place without needing signs or flyers anymore, but through your mobile device."
Each stone code reportedly takes about seven days to construct due to the level of precision necessary to make it scan, though some future iterations will be constructed out of different recycled materials. The next four, expected by March, will pop up at Redra do Leme, Sao Conrado Beach, Mirante do Leblon and Pepe Beach in Barra da Tijuca.
A recent study by MasterCard claimed Rio was the world's most up-and-coming city destination for international travelers -- and it has worked hard to cultivate this reputation by growing its global importance exponentially. Rio hosted the Rio+20 Earth Summit last year and will welcome the world to the World Cup next year. More importantly, it's gearing up for its role as the first South American city to host the Olympic Games in 2016.
© Copyright IBTimes 2023. All rights reserved.
FOLLOW MORE IBT NEWS ON THE BELOW CHANNELS