RIP Phife Dawg: 5 Notable Verses By Late A Tribe Called Quest Rapper Malik Isaacs Taylor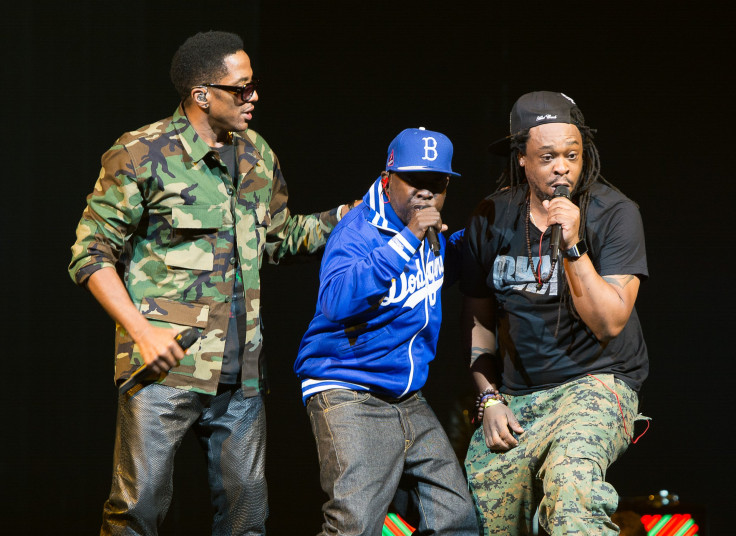 The global hip-hop community woke up Wednesday to reports that rapper Phife Dawg of the legendary and pioneering hip-hop group A Tribe Called Quest died. He was 45.
Born Malik Isaacs Taylor in Queens, New York, the rapper battled diabetes during his time with the group and following its formal dissolution in 1998. The group, which included rappers Q-Tip, Jarobi White and DJ Ali Shaheed Muhammad, reunited occasionally for live shows to raise funds for the medical costs of Taylor's Type 2 diabetes. In 2008, he received a kidney transplant from his wife but needed a new transplant a few years later, according to media reports.
But Taylor's health issues will undoubtedly be a footnote for fans who admired him as one of the most witty and prolific lyricists of his era. A Tribe Called Quest, along with De La Soul and Queen Latifah, who were all part of the revered hip-hop collective known as the Native Tongues, helped pioneer a genre of Afrocentric rap which would go on to compete with more explicit and violent gangster rap that came to dominate hip hop music industry.
Tribe's distinct sound blended hip-hop drum loops with traditional jazz sounds like the upright bass and brass horns. Here are five of the "Five Foot Assassin's" most noted verses that span his time with the group:
Check The Rhime (1991)
Now here's a funky introduction of how nice I am /Tell your mother, tell your father, send a telegram / I'm like an energizer 'cause, you see, I last long / My crew is never ever wack because we stand strong/ Now if you say my style is wack that's where you're dead wrong / I'll slay that body in El Segundo then push it along / You'd be a fool to reply that Phife is not the man / 'Cause you know and I know that you know who I am…
Can I Kick It? (1990)
Can I kick it? To my Tribe that flows in layers / Right now, Phife is a poem sayer / At times, I'm a studio conveyor / Mr. Dinkins, would you please be my mayor? / You'll be doing us a really big favor / Boy this track really has a lot of flavor / When it comes to rhythms, Quest is your savior / Follow us for the funky behavior / Make a note on the rhythm that we gave ya / Feel free, drop your pants, check your ha-ir / Do you like the garments that we wear? / I instruct you to be the obeyer / A rhythm recipe that you'll savor / Doesn't matter if you're minor or major / Yes, the Tribe of the game we're a player / As you inhale like a breath of fresh air.
Scenario (1992)
I'm all that and then some, short dark and handsome / Bust a nut inside your eye, to show you where I come from / I'm vexed, fumin, I've had it up to here / My days of payin dues are over, acknowledge me as in there (Yeah!) / Head for the border, go get a taco / Watch me wreck it from the jump street, meaning from the get-go / Sit back relax and let yourself go / Don't sweat what you heard, but act like you know.
Electric Relaxation (1993)
If my mom don't approve, then I'll just elope / Let me save the little man from inside the boat / Let me hit it from the back, girl I won't catch a hernia / Bust off on your couch, now you got Seaman's Furniture.
Buggin' Out (1991)
Yo, microphone check one, two, what is this? / The five foot assassin with the roughneck business/ I float like gravity, never had a cavity / Got more rhymes than the Winans got family / No need to sweat Arsenio to gain some type of fame / No shame in my game cause I'll always be the same / Styles upon styles upon styles is what I have / You wanna diss the Phifer but you still don't know the half / I sport New Balance sneakers to avoid a narrow path / Mess around with this you catch a size eight up your ass / ​I never half step cause I'm not a half stepper / Drink a lot of soda so they call me Dr. Pepper / Refuse to compete with BS competition / Your name ain't Special Ed so won't you seckle with the mission/ I never walk the street thinking it's all about me / Even though deep in my heart, it really could be/ I just try my best to like go all out / Some might even say yo shorty black you're buggin' out.
© Copyright IBTimes 2022. All rights reserved.
FOLLOW MORE IBT NEWS ON THE BELOW CHANNELS