With Rob Ford Behind Home Plate, Toronto Blue Jays Win Game 5 vs. Texas Rangers Despite Bizarre Run [VIDEO]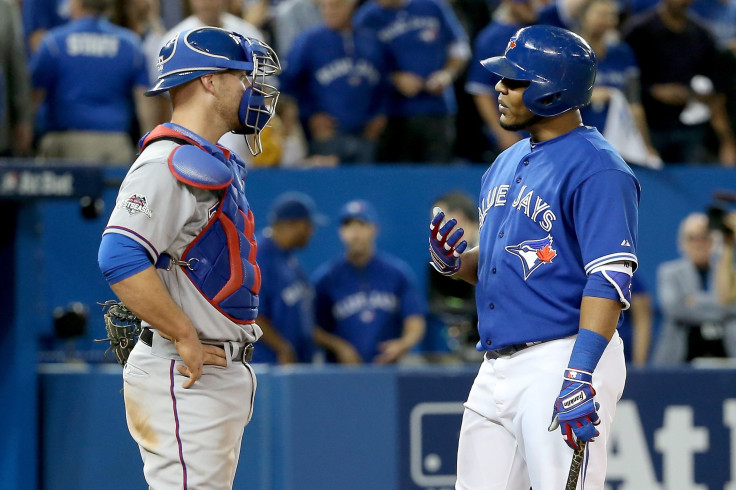 The 2015 MLB playoff season has been interesting. After Los Angeles Dodgers player Chase Utley was called safe after sliding into -- and breaking -- the leg of New York Mets second baseman Ruben Tejada, another controversial call took place in Game 5 of the Toronto Blue Jays vs. Texas Rangers game at Rogers Centre, Toronto, Wednesday night.
The Rangers scored a strange run during the seventh inning, and it's arguably because of a ball Blue Jays catcher Russell Martin threw to pitcher Aaron Sanchez. The ball hit Shin-Soo Choo's bat and slowly rolled across the third-base line. While Martin looked dumbfounded, Rangers player Rougned Odor took advantage of the ball and trotted from third base to home.
The weirdest part of it all? The umpires decided that Odor's run would count since the ball, technically, was live. As Yahoo Sports first pointed out, the call was correct under rule 603(a)(3) in MLB's rule book:
"However, if the batter is standing in the batter's box and he or his bat is struck by the catcher's throw back to the pitcher (or throw attempting to retire a runner) and, in the umpire's judgement, there is no intent on the part of the batter to interfere with the throw, the ball is alive and in play."
Before the run it was a tight game. Texas was up by only one run, 3-2. But Odor's stolen base changed the game. The Blue Jays soon took a drastic lead in the bottom of the seventh and won 6-3.
"Toronto" and "Rob Ford" soon became top-trending topics on Twitter. Toronto was trending because they won, and Ford, the embattled Canadian politician, was trending because he attended the game and is an easy target for jokes. Some Twitter messages have been shared below:
© Copyright IBTimes 2023. All rights reserved.