Robert Pattinson And Kristen Stewart Take On The ALS Ice Bucket Challenge [VIDEOS]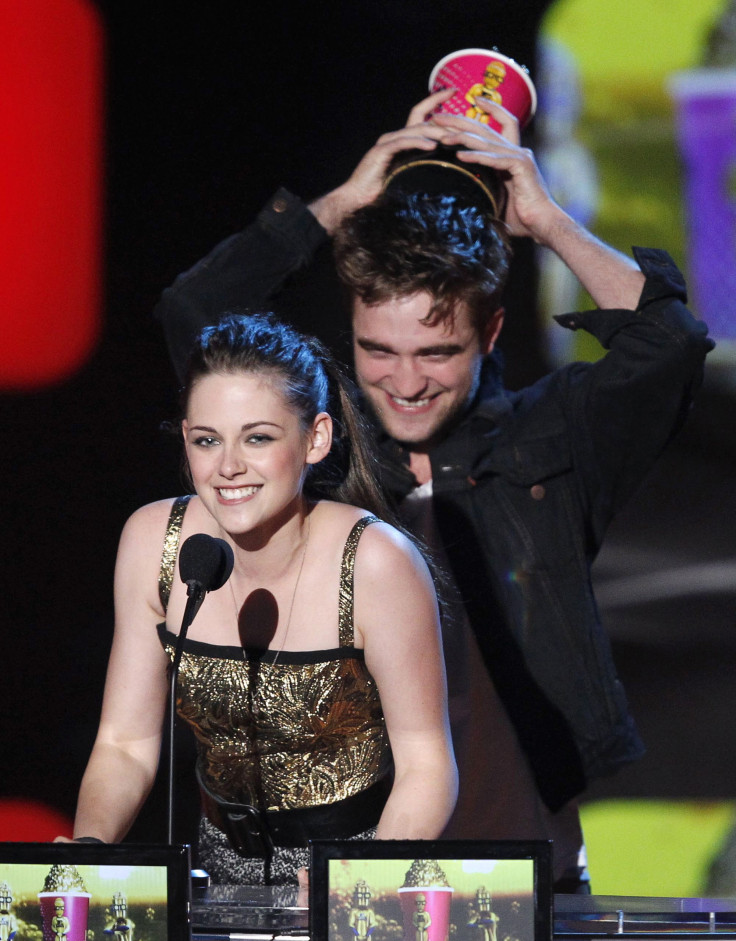 Robert Pattinson and Kristen Stewart's relationship has certainly cooled since their breakup last spring, and the former couple and "Twilight" co-stars got eve chillier this week when they participated -- separately-- in the ALS Association's Ice Bucket Challenge. Following the lead of countless celebrities who have recently completed the chilly, charitable act in an effort to help those suffering from ALS (Amyotrophic Lateral Sclerosis), Pattinson and Stewart jumped on board this week, posting their separate challenge videos to their pals' social media accounts.
Nominated by fellow actor Zac Efron, Pattinson, 28, took on the challenge Wednesday. "I couldn't find a bucket," Pattinson said in the video posted to Efron's official Instagram and YouTube accounts. "I had such short notice [that] I had to improvise," Pattinson said before being sprayed with a hose and pelted with ice cubes and red Solo cups filled with water. The actor finished his challenge by nominating singer Marilyn Manson and two of his former co-stars, Guy Pearce ("The Rover") and Mia Wasikowska ("Maps to the Stars").
Stewart completed her own unique version of the charity challenge with pal Scott Fahrendorf and her "Equals" co-star and rumored boyfriend Nicholas Hoult. Unlike many stars before them, Stewart and Hoult, both 24, opted to dunk their faces in ice water before pouring it over their heads. "This is a f---ing real challenge," Stewart said in the clip posted to YouTube Thursday. The film star, nominated by actress Anne Hathaway, called out singer Jenny Lewis and actors Jacki Weaver ("Silver Linings Playbook"), Brie Larson ("The Spectacular Now") and Max Thieriot ("Bates Motel").
Stewart, who was also singled out and drenched with a separate, larger bucket of ice water by Hoult and Fahrendor, concluded the video by insisting the water used in the challenge was not fresh. "In good faith you must believe that all of this was done with dirty bathwater," she said. "Please be considerate of California water conservation."
Hoult nominated actors Joe Dempsie ("Game of Thrones"), Craig Roberts ("Skins") and Colin Firth ("The King's Speech.")
Pattinson and Stewart are just two of many famous faces who have participated in the popular Ice Bucket Challenge in recent weeks in an effort to raise money and awareness for those suffering from the deadly neurodegenerative disorder. The ALS association announced Friday it had pulled in $53.3 million in donations from new and existing donors compared to the $2.2 million it earned in August 2013.
© Copyright IBTimes 2022. All rights reserved.
FOLLOW MORE IBT NEWS ON THE BELOW CHANNELS