Robert Randolph, Author Of Hollywood Spa Scandal Book, Sues John Travolta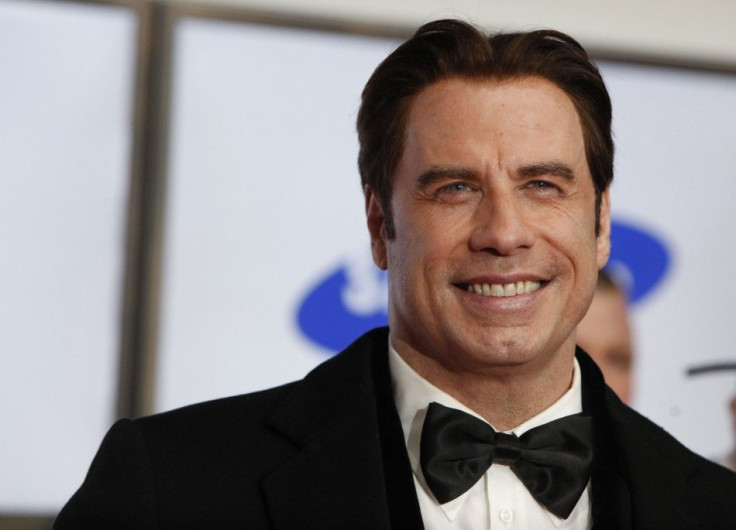 A former Hollywood men's spa aficionado who self-published an exposé about his claimed celebrity encounters in the steamy underworld is suing actor John Travolta for libel.
Robert Randolph, author of the book You'll Never Spa In This Town Again, is suing Travolta for allegedly trying to discredit him as an author, TMZ reported. Randolph claimed in his book that Travolta was a gay spa frequenter who routinely hooked up with other male spa visitors, and he believes Travolta and his lawyer Marty Singer slandered him in order to undermine the claims he made in his book. The alleged events that led to the lawsuit took place in 2010, when Randolph was working on the book, which was eventually published in February of this year, Reuters reported.
Singer is also named in the lawsuit, according to TMZ, and Randolph is seeking unspecified damages. The author claims Travolta and Singer made false statements about his mental health and fabricated a claim that he had spent time in a mental instiution.
The news of the lawsuit comes several weeks after two masseurs filed separate lawsuits against the actor in May, claiming he touched them inappropriately and tried to have sex with them. Both men withdrew their lawsuits that same month. Speculation over Travolta's sexuality is hardly new, but his representatives shut down the first masseur's claims, insisting they could prove the actor was in fact on the East Coast on the day in question.
On Thursday, a representative for Travolta released a statement in response to Randolph's lawsuit, according to a TMZ report.
The suit is based on a privileged communication, and it will promptly be thrown out by the court, the statement reads. To evaluate the credibility of Robert Randolph and his ridiculous lawsuit one need look no further than his own statements published on his website stating that he sustained 'permanent brain damage' and had to 'retrain' his brain.' Mr. Travolta will aggressively defend himself against this lawsuit and expects to be fully vindicated when this meritless case is dismissed.
Singer also released a statement of his own: This is a ridiculous lawsuit. It is based on our letter which was completely privileged under the law. We intend to sue the attorneys for malicious prosecution after the court promptly dismisses this baseless lawsuit.
In his book, Randolph described his alleged encounters with the Grease actor, among other topics. The book's subtitle reads a true, steamy celebrity tell-all/who's gay and who's not/who's packin' and who's lackin'.
Travolta's name appears on the book's cover. Other names on the book cover -- which promises readers more names of allegedly gay Hollywood men within its pages -- are John Amos, John Cusack, Jeremy Piven, Pauly Shore, George Michael, Jean-Claude Van Damme, Billy Zane, Andy Dick and Paul Giamatti (whose last name is misspelled on the cover).
Those who have bothered to read Randolph's book have given it mixed reviews. As of Monday afternoon, barely a handful of readers had rated it on the popular book website GoodReads.com (the website claims more than 9 million members). There are more reviews on Amazon.com, but reader reviewers there can't agree on what to make of it.
Some praised Randolph for telling his story while others questioned his claims and criticized his writing.
In one excerpt published by Amazon, Randolph describes a Royal Caribbean cruise that Travolta reportedly took in June 2009 -- sans wife Kelly Preston. (Their oldest child, a son named Jett, died in January of the same year). Randolph claims that Travolta had separated from Preston at the time.
Travolta and his handlers would like you to believe that Mr. Travolta jumped ship early to return home to try and reconcile with his beloved wife, Randolph wrote, according to excerpts published by Amazon. The truth of the matter is, John Travolta was ordered to leave the ship after sexually propositioning and nearly sexually assaulting one of the ship's employees while the 'Swordfish' star was naked as a jaybird.
According to a 2010 Gawker report, Randolph claimed that Travolta frequently visited gay spas and that he saw the actor get oral sex from a man. Randolph also claimed that he followed this same man and Travolta and saw them have have sex.
Whether Randolph's lawsuit against the famous actor pans out remains to be seen. Though Randolph certainly seems to be an unreliable narrator, it's getting more and more difficult to dismiss the mounting claims that Travolta isn't exactly who he says he is.
READ ALSO: Amy Winehouse's Father Writes About Late Singer In Amy, My Daughter
© Copyright IBTimes 2023. All rights reserved.
FOLLOW MORE IBT NEWS ON THE BELOW CHANNELS