A-Rod Return To Baseball: Why PEDs Will Follow Him Around The Rest Of His MLB Career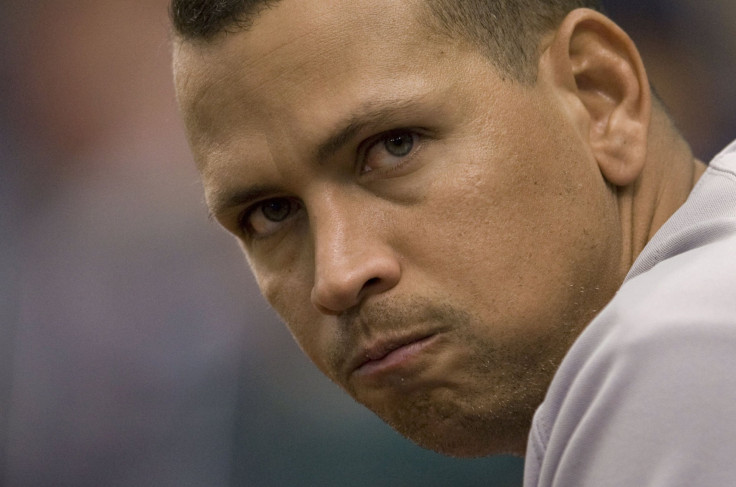 After years of often exhausting conversations over performance-enhancing drugs tainting the game, Major League Baseball enjoyed one of its cleanest years in 2014, when most of the talk seemed to surround what was happening on the diamond, rather than in shady clinics. San Diego Padres outfielder Cameron Maybin was suspended 25 games in July for an amphetamine violation relating to Attention Deficit Disorder, and Baltimore Orioles first baseman Chris Davis was suspended 25 games for taking the ADD drug Adderall, but the league was devoid of major scandals of players using PEDs. It was a smooth year for outgoing commissioner Bud Selig, with the media and the public not voicing concerns on the PED topic.
That will all change in the coming weeks or months. When Opening Day rolls around in April, any perceived silence about PEDs will come to a screeching halt when Alex Rodriguez returns to baseball after being suspended for the 2014 season. While Miami Marlins superstar Giancarlo Stanton inks the most lucrative contract for an American athlete on Tuesday, baseball fans can recall that it was just over seven years ago that the New York Yankees signed Rodriguez to a jaw-dropping, $275 million deal, which was another seven years after the Rangers signed him to a $252-million deal. Many have suggested that the overwhelming pressure to play to the expectations of the contracts, along with the constantly inflating ego that goes along with being a superstar athlete, were contributing factors to Rodriguez's fall from grace.
Rodriguez, who goes by the nickname "A-Rod," but has been branded with less favorable monikers like "A-Fraud" and "A-Roid," has seen his public image plummet due to PED use and his admitted lies that followed. What was once a marketer's dream, became a public-relations nightmare.
Much in the way Bernie Madoff became the poster boy for Wall Street excess and greed, Rodriguez has subjected himself to public vitriol for juicing and lying about it. Countless other investment managers have committed financial fraud, and there is a lengthy list of athletes who have taken human growth hormones, but Madoff and Rodriguez grabbed more headlines than others because of their lofty status and the depths of their respective transgressions.
It will likely be a long road back for Rodriguez. He currently remains a member of the Yankees, and the team that finished just 20th in runs in 2014 could use the boost he will provide next season. But Rodriguez will almost certainly hear his share of jeers in the Bronx, as well as most other stadiums. The 39-year-old is approaching the twilight of his career, but he is just six home runs away from tying Willie Mays's home run mark. The prospect of Rodriguez rounding the bases for home run No. 661 ahead of Mays, a beloved figure from the romantic baseball era of 1950s New York, will create quite a stir among baseball purists. And it could get worse. Rodriguez, who could be a serviceable designated hitter or infielder in the next few years, is just 60 home runs away from reaching Babe Ruth's 714 home-run total.
Repairing his image might be impossible at this point of Rodriguez's career, even though other athletes have changed their negative public perception. Michael Vick has made the most of his second chance after going to jail for his part in a dogfighting ring. LeBron James has become the most popular athlete in sports, just four years after he was vilified for leaving Cleveland. The difference for Rodriguez is that he already had his second chance, and blew it.
In 2009, Rodriguez admitted in an interview with ESPN's Peter Gammons to taking PEDs starting in 2001, contradicting statements he made to Katie Couric on CBS's "60 Minutes" in 2007.
"There's absolutely no excuse for what I did," Rodriguez told Gammons. "I'm sorry. If I was a fan, a fan of mine, a fan of the Rangers, I would be very pissed off. And I can't take that back. But just realize that I'm sorry, and I want to do things to change."
It's hard to believe that Rodriguez was truly sorry, considering he started using PEDs less than two years later. Rodriguez reportedly told the DEA that he used banned substances between late 2010 and October 2012, even though he outright denied the allegations in a Nov. 2013 interview with WFAN's Mike Francesa.
The hatred of Rodriguez didn't begin when it was discovered that he cheated and lied about his PED use for a second time. From the start of his career with the Yankees in 2004, Rodriguez was the most polarizing player in all of baseball. Whether it's been his failures in the postseason, his extra-marital affairs, or his inability to be truthful with the public, Rodriguez's lack of self-awareness never allowed him to change his public perception.
"[Mike] Mussina doesn't get hammered at all. He's making a boatload of money. Giambi's making [$20.4 million], which is fine and dandy, but it seems those guys get a pass. When people write [bad things] about me, I don't know if it's [because] I'm good-looking, I'm biracial, I make the most money, I play on the most popular team," Rodriguez told Sports Illustrated in 2006.
As one of the greatest players in MLB history, Rodriguez has always been held to a higher standard, but failed to live up to the grandiose expectations. On the field, he's crumbled in the big moments, posting a .244 playoff batting average with New York and helping to deliver just one championship in eight postseason appearances. Away from the field, he's only continued to promote the notion that he is less than sincere.
Rodriguez isn't the only athlete to perform poorly under pressure, take performance-enhancing drugs or lie to the public, but he's certainly done all three in a way that separates him from the rest.
An IB Times Staff reporter contributed to this report.
© Copyright IBTimes 2023. All rights reserved.