Romney Economist Calls Kettle Black, Says Obama Tax Plan Doesn't 'Add Up'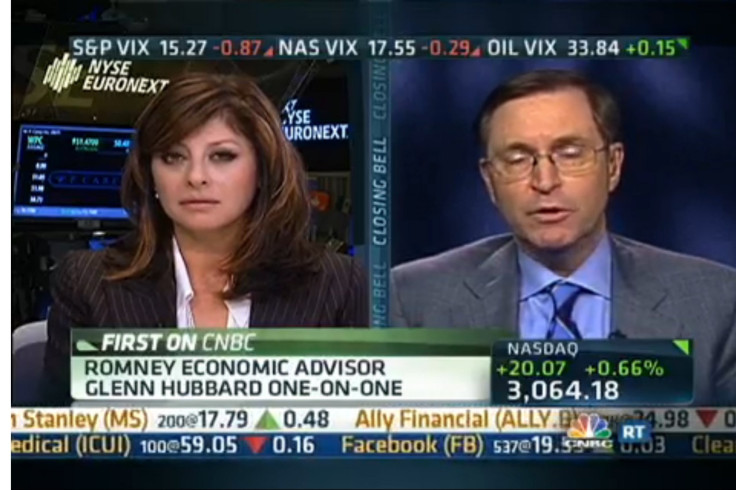 A leading economist in Gov. Mitt Romney's 2012 presidential campaign criticized the Democratic tax plan on CNBC Monday, charging that other economists did not believe President Barack Obama's plans are feasible.
While the fact a campaign surrogate attacked the policy position of a rival on a cable network is hardly news, the statement by Columbia Graduate School of Business Professor Glenn Hubbard was significant for conducting a kind of accusatory ju jitsu: leveling the exact criticism at the Obama campaign that has been made of the Romney camp.
"How would he pay for the costs just raising taxes on high-income people?" Hubbard, who is seen as a likely secretary of the Treasury should Romney be elected president, said in an interview with host Maria Bartiromo, while discussing Obama's tax reform plan, "The numbers just don't add up."
That specific charge is remarkable for the fact it has been the major attack line used by both Democratic and neutral pundits in attacking the Romney tax plan, which that campaign claims will be able to increase tax revenue by "base broadening" measures and cutting of certain tax loopholes, but without increasing the tax burden on middle class households.
Several nonpartisan studies, include a much discussed one by the Brookings Institution, have determined it is mathematically impossible to hold such a promise unless unrealistic growth assumptions are factored in. The Romney campaign has countered that there are "six studies" proving its tax plan could work, something that has been thoroughly debunked by fact-checkers.
Hubbard also attacked President Obama's promise of creating 12 million jobs during his next term, again appealing to technical authorities.
"Does any economist believe that the policies he's proposing could lead to that?" he asked Bartiromo after mentioning the president's pledge.
The words by Hubbard could reveal some insight into Gov. Romney's messaging strategy ahead of the second in a series of three Presidential debates. During the first debate, Romney was widely seen as having the upper hand by engaging in lucid explanations of policies that appeared more earnestly moderate than those adopted on the campaign trail.
© Copyright IBTimes 2023. All rights reserved.