Ron DeSantis A Socialist Now? Hurricane Ian Aid Plea Causes Twitter Frenzy
Hurricane Ian made landfall near Florida on Wednesday as a powerful Category 4 storm, affecting the southwestern counties of the state, including Collier County, Sanibel, and Fort Myers Beach.
Gov. Ron DeSantis delivered timely press announcements leading up to landfall and his promptness received praises from Floridians. However, his detractors have called him out for his sudden shift to "socialism," despite his attacks on socialist policies in the past. The governor's decision to vote against federal aid after the Tristate was destructed by Hurricane Sandy is still fresh in the minds of people.
He is receiving criticism for accepting assistance from over two dozen states and requesting President Joe Biden to allow FEMA to provide 100% federal cost share for debris removal and emergency protective measures for 60 days.
DeSantis also requested the president to grant a Major Disaster Declaration for all 67 counties in the state. It is aimed at providing federal assistance to the residents as well as funding public infrastructure repairs, reported PBS.
In a 5:30 p.m. update Wednesday, DeSantis thanked the 26 states that sent assistance before the storm battered the Sunshine State.
"Thank you to the 26 states that have answered our call for assistance with #HurricaneIan, specifically @GovernorKayIvey, @GovBillLee and @LouisianaGov. Florida is grateful," he tweeted.
DeSantis also called on people who wish to be a part of Hurricane Ian recovery initiatives to register on the official volunteer portal. In another tweet, he encouraged people to contribute to the Florida Disaster Fund to help in rebuilding the state.
This unprecedented transition in his stance has sent Twitter into a frenzy. In 2018, DeSantis declared, "I Stand Against Socialism."
In a social media post from the year, DeSantis said, "Socialist policies have failed time and time again. What's frightening is that far-left liberals like Andrew Gillum think they'll work for our state. Share if you agree that socialism is NOT what Florida needs!"
DeSantis condemned socialism at every turn. In his own words, "Trust me: socialism wrapped in ignorance is something Floridians from all walks of life reject."
Voicing his opinion, DeSantis' supporters also said, "We are 'ready for Ron' because we're ready to defeat socialism—before it's too late."
This development has come as DeSantis faces reelection in six weeks and his handling of the hurricane will shape his future in politics. But for now, his critics have engaged in mudslinging after he expressed gratitude for the assistance received.
'The View' co-host Joy Behar poked fun at DeSantis after he requested bipartisan assistance in the face of disaster. Behar quipped that DeSantis' plea for aid is "socialism."
"Isn't it socialism when the government helps you?" Behar said.
Co-host Sunny Hostin also chimed, "Yeah, and the fire department's gotta come, and the police. I mean, socialism!"
"DeSantis loves socialism. Pass it on," tweeted a social media user.
"In Congress Ron DeSantis voted AGAINST helping Hurricane Sandy victims Now he's begging Biden for aid Rand Paul voted AGAINST helping Hurricane Sandy victims Yet he begged Biden for aid for Kentucky Republicans hate "socialism" until their own a--es are on the line," read another irate tweet.
"And he'll crap on socialism until he needs it. You're welcome DeSantis, from a taxpayer in a blue state," tweeted another.
"I guess DeSantis has used up all the Florida taxpayer money giving it to his donors to traffic human beings and trying to build up support in Texas for Presidential run. Meanwhile here comes the GOP begging bowl - dig deep Blue States - Florida needs socialism again," opined a fourth user.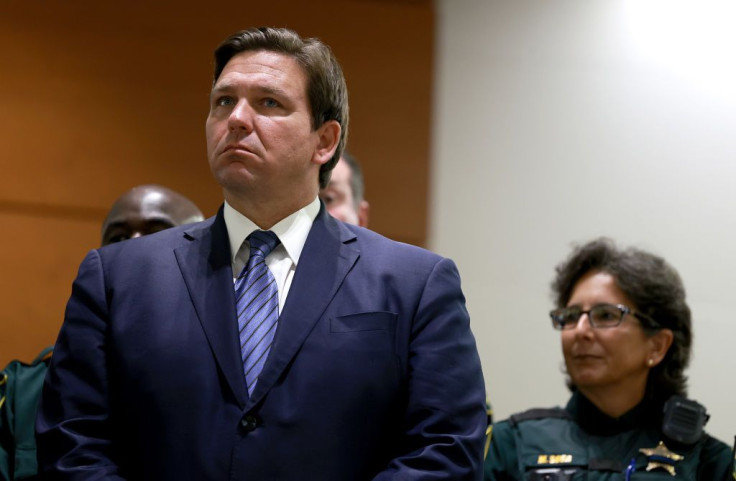 © Copyright IBTimes 2022. All rights reserved.
FOLLOW MORE IBT NEWS ON THE BELOW CHANNELS