​​Twitter On Who Looks 'More Trapped' Between Prince Harry And Prince William
KEY POINTS
Body language expert Jesus Enrique Rosas shared side-by-side photos of Prince Harry and Prince William on Twitter
The author and YouTuber asked the netizens who between the two princes looked more "trapped"
Several netizens commented on the post, with many saying Prince Harry looked more trapped than his brother
Twitter users have mixed opinions on whether Prince Harry was right about Prince Charles and Prince William being trapped in their royal duties.
Jesus Enrique Rosas, known for his YouTube channel "The Body Language Guy" with over 102 million views and author of several books, including "Body Language In 40 Days" and "The Remote CEO's 22 Laws of Persuasion," weighed in on Prince William and Prince Harry's lives. He shared side-by-side snaps of them on Twitter and wrote in the caption: "One of them is 'trapped.' Guess which one."
Rosas' post received several comments, with many sharing their thoughts on who appears more free and happy between Prince Charles and Princess Diana's two sons.
"It's Harry and him being trapped is all his own doing, his family and friends tried warning him about rushing things with Meghan, but he didn't listen so this is [the] outcome, being fully controlled by Meghan, not being allowed to do anything without her and her telling him what to do," one wrote, blaming Prince Harry for his unhappiness.
"Harry looks more haggard, but he also partied more. That being said I think Harry is trapped. Williams was in love, and he knew it and didn't rush. Harry... not so much. He rushed into it and might now be paying the price for those decisions. Time will tell," a second person added.
Meanwhile, some netizens urged the others to leave Prince Harry alone because they weren't sure if he was feeling trapped. One said the people probably had the wrong perception about the Duke of Sussex.
"People destroy other people's marriage by insinuating wrong perceptions. Pls leave Harry and his beautiful wife alone. Who says he is trapped?" one asked.
"Really? I would say one looks as though he is being constantly harassed by the media in the same way his mother was. It's all starting to look pretty disgusting, tbh," one said about Prince Harry's appearance in the picture.
Royal biographer Lady Colin Campbell agreed with the Twitter users' opinions. On her YouTube channel, she said that the future kings, Prince Charles and Prince William, "seem so happy with both their duties and wives," while Prince Harry "looks miserable."
Neil Sean, a royal and entertainment reporter for NBC News, MSNBC and Access Hollywood, also previously said that Prince Harry looked more trapped than his brother. The Duke of Sussex made the statement about being trapped during his interview with Oprah Winfrey for a CBS special last year.
"I was trapped, but I had no idea I was trapped," the duke told Winfrey, Page Six reported. "My father and my brother are trapped. They don't get to leave. And I have compassion for that."
Rosas analyzed Prince Harry and Meghan Markle's body language when they joined the U.N. Assembly Monday to celebrate Nelson Mandela Day on his YouTube channel. The body language expert showed a clip of Markle holding Prince Harry's arm and touching him while he talked to a man on his left side. Rosas found Markle "clingy" and "needy."
"Harry should have a bit more leeway, a bit more freedom. He has to find freedom," Rosas said while watching the clip of the couple.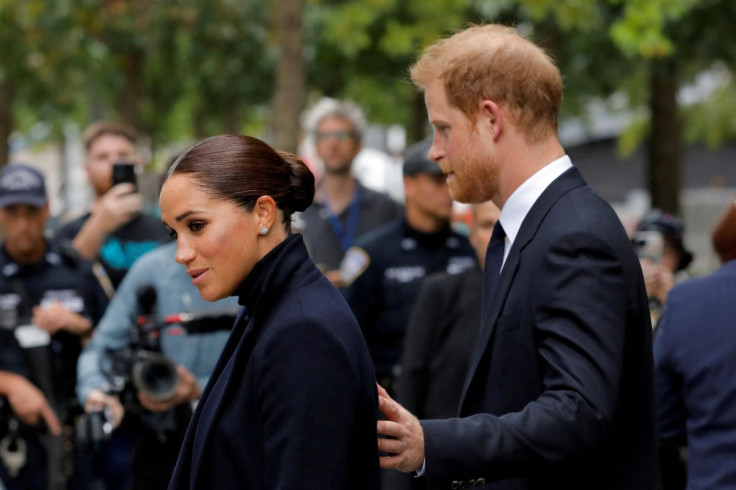 © Copyright IBTimes 2023. All rights reserved.