Rush Limbaugh To Evacuate Florida After Calling Irma A Hoax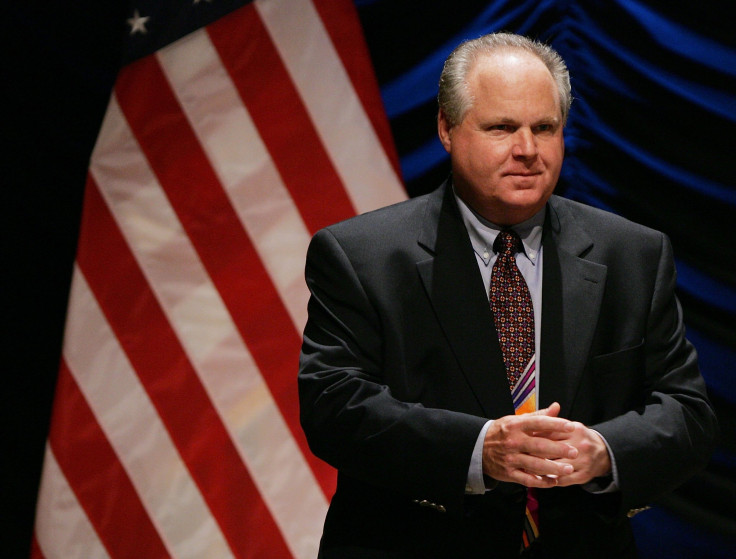 Rush Limbaugh may no longer believe Hurricane Irma is a "liberal hoax." The conservative radio personality will reportedly evacuate South Florida ahead of the storm, despite previous beliefs.
Limbaugh's announcement comes three days after he claimed Hurricane Irma wouldn't hit the United States. The commentator claimed climate scientists and the liberal media were in favor of the validity of global warming, which he deemed a "lie."
"I'm not going to get into details because of the security nature of things, but it turns out that we will not be able to do the program here tomorrow. That will be in the hands of Mark Steyn tomorrow," Limbaugh said on his radio show Thursday. "We'll be on the air next week, folks, from parts unknown."
"We'll be back on Monday, it's just that tomorrow is going to be problematic. Tomorrow, I think, it would be legally impossible for us to originate the program out of here," Limbaugh added.
Limbaugh said that he had to cancel a variety of things in wake of Hurricane Irma including a private movie screening for Dylan O'Brien and Michael Keaton's upcoming flick, "American Assasin." However, he then claimed that he had a feeling that the show's cancellation was on the horizon.
Limbaugh, however, didn't retract his previous statement about the tropical storm being fake. He also didn't encourage listeners to evacuate Florida ahead of the storm. Instead, he continued to support his original conspiracy theory of Irma. Before announcing his evacuation plans, Limbaugh said, "The views expressed by the host of this program [are] documented to be almost always right 99.8 percent of the time," according to ThinkProgress.
Limbaugh has never been an advocate for climate science. He reiterated his opposition towards it when providing his thoughts about the inexistence of Hurricane Irma on his radio show Tuesday.
"There is a desire to advance this climate change agenda, and hurricanes are one of the fastest and best ways to do it," Limbaugh said Tuesday on his radio program. "You can accomplish a lot just by creating fear and panic. You don't need a hurricane to hit anywhere."
"All you need is to create the fear and panic accompanied by talk that climate change is causing hurricanes to become more frequent and bigger and more dangerous, and you create the panic, and it's mission accomplished, agenda advanced," Limbaugh added.
Twitter users were not having Limbaugh's comments. Many users vocalized their opposition towards Limbaugh's hoax claims and his decision to evacuate South Florida despite them. The conservative figure has been deemed as "crazy" and "irrelevant" by Twitter.
"First @rushlimbaugh puts people's lives at Risk by telling people Irma is a liberal hoax and now he RAN away," one user wrote in a tweet. "His viewers need to know!"
"So it's all a liberal hoax but he evacuates anyway," a second user tweeted. "Hypocrisy, thy name is Rush Limbaugh. Be safe, people, evacuate if you're told to!"
"His disciples will believe him and not evacuate," a third person wrote in a tweet.
Follow me on Twitter @dory_jackson
© Copyright IBTimes 2023. All rights reserved.
FOLLOW MORE IBT NEWS ON THE BELOW CHANNELS