Russia Grounds Entire Su-24 Fleet Of Fighter Jets After Deadly Crash Near Sea Of Japan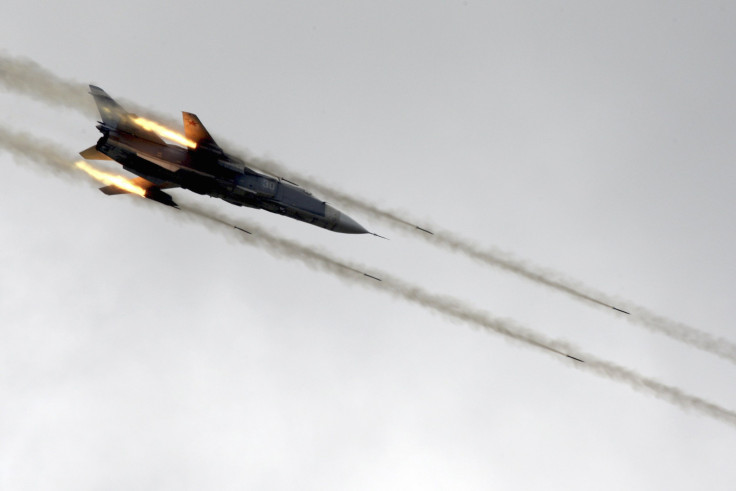 The entire Russian fleet of the SU-24 supersonic fighter jets was grounded Monday after one of the aircraft crashed while taking off killing both pilots on board, reported Tass, a Kremlin-backed Russian news site. The crash, which occurred in the far east Russian region of Khabarovsk near the Sea of Japan, was one of five high-profile Russian air force incidents in less than a month, prompting concerns that Russia's military is being grossly overstretched as it continues to showcase its military might across Europe.
"Today at 14:35 Moscow Time the Sukhoi Su-24M plane crashed during the takeoff in the area of the Khurba airport (Khabarovsk territory) while performing a scheduled training flight. According to a report from the scene, both pilots died," the ministry said. "The flights have been suspended before the causes of the crash are established."
While Russia continues to fly aircraft across Europe's international airspace, antagonizing the governments of northern European and Baltic countries, it has had to deal with the knock-on effect of its increased obligations. In the first week of June, a MiG-29 multirole fighter jet and a Su-34 fighter jet crashed on the same day in different parts of the country. A Tupolev bomber crashed four days later while taking off in Siberia, killing one and injuring another, and prompting the Kremlin to ground the entire fleet for safety reasons.
A prominent Russian military expert told Newsweek last month that the increased obligations of the Russia air force were likely to blame for the spate of incidents.
"This could be an interesting sign of the overstretching of Russian armed capabilities, because the maintenance template for these vehicles does not take into account the much higher operational tempo they have been operating under lately," said Igor Sutyagin. "The Bear [Tupolev] bombers, for example, are designed for a single strike on missions, not for extended training flights," he added.
The grounding of the Su-24 fleet is likely to have a serious effect on Russian aviation capabilities. As of 2011, the Kremlin was flying around 400 of the aircraft, one of the most flown in the air force. It's not yet known what countries that Russia has sold the aircraft to will do. Algeria, which crashed a Su-24 in 2014 has around 38. Iran, Syria and Ukraine also all have sizable fleets of the aircraft.
© Copyright IBTimes 2023. All rights reserved.
FOLLOW MORE IBT NEWS ON THE BELOW CHANNELS