Ryan Seacrest Talks About His Embarrassing Wardrobe Malfunction During 'American Idol' Finale [Watch]
Ryan Seacrest revealed he faced a wardrobe malfunction during the "American Idol" season 20 finale held Sunday. The 47-year-old host also showed a clip disclosing the details and explained that after climbing a ladder, he had to change his underwear.
"America voted and said there was anatomy in the shot," Seacrest recalled during Monday's "Live with Kelly and Ryan" episode. "There was just panic about it, and we changed it."
Seacrest further shared that it was his stylist Miles Siggins who helped him to understand the wardrobe malfunction during the break.
"We go to commercial and he says, 'Can I tell you something? We need to change your underwear,'" Seacrest recalled. "I said, 'What do you mean we need to change my underwear?'"
After understanding the situation, the host revealed there was another problem - he wasn't carrying extra underwear with him. "Don't worry, I got mine," Siggins suggested Seacrest swap the underwear.
However, Seacrest noted that Siggins being an English man wears "shorter" and "tighter" underwear.
"He's English, so he has shorter, tighter ones. They were tight, elastic underwear," he said. "It was in the middle of a live show! We go backstage during the commercial and find a little corner and I'm literally taking off my pants, off my underwear, and putting his on."
After explaining the details, Seacrest also showed a clip of him getting up on the ladder when his stylist noticed there was something wrong with his underpants.
Co-host Kelly Ripa suggested after watching the clip that rather than exchanging the underpants, they could have workaround something else. "Change the camera shot! Crotch up! I would have said, 'You get that camera and put it from here up.' I'm not wearing Miles' panties," she said.
This is not the first time when a wardrobe malfunction took place during the "American Idol" show. Earlier in the season, Katy Perry's red skin-tight pants got ripped off. The 37-year-old singer, who serves as one of the judges on the show, had to fix her pants using yellow duct tape.
Seacrest has been hosting the reality singing show since 2002. He has also been co-hosting "Live with Kelly and Ryan," with Ripa since 2005.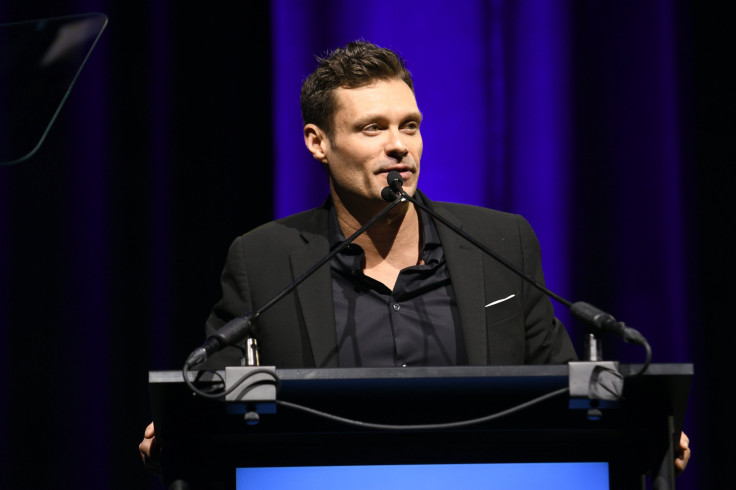 © Copyright IBTimes 2023. All rights reserved.
FOLLOW MORE IBT NEWS ON THE BELOW CHANNELS