Ryan Zinke To Be Probed For 'Threatening' Alaska Senator Lisa Murkowski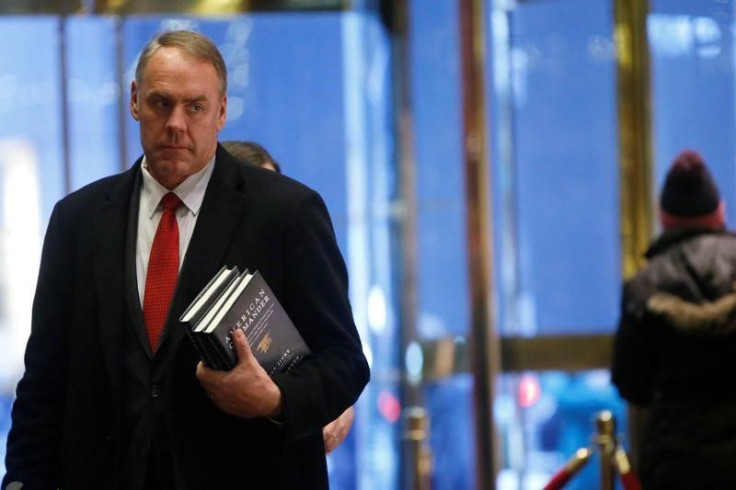 A photograph posted Thursday of Interior Secretary Ryan Zinke having a beer with Sen. Lisa Murkowski (R-Alaska) is unlikely to quell the ongoing uproar he already faces over reports that he called up and threatened the same senator for voting against a Senate debate on repealing Obamacare soon.
Hours after Zinke tweeted the photo of the two Republicans enjoying Alaskan beers at his Washington home, it was reported the interior secretary was under investigation by his own agency to determine if he violated anti-lobbying laws.
Earlier, a "preliminary investigation" had been launched after two senior House Democrats filed a petition with the Interior Department's Office of the Inspector General and the Government Accountability Office a week ago over the calls he made to two Republican senators from Alaska.
The Alaska Despatch News reported last week that Zinke called up senators Dan Sullivan and Murkowski to let them know their vote against a debate for Obamacare repeal "had put Alaska's future with the administration in jeopardy."
Read: Who Is Ryan Zinke? Trump Picks Montana Congressman To Be Interior Secretary
On Thursday, Deputy Inspector General Mary Kendall stated in a letter to Energy and Commerce Committee ranking member Rep. Frank Pallone (D-N.J.) and Natural Resources Committee ranking member Rep. Raul Grijalva (D-Ariz). "We will advise you about what further action the results of this inquiry lead the OIG to take."
Sullivan had termed the call from Zinke a "troubling message."
"I'm not going to go into the details, but I fear that the strong economic growth, pro-energy, pro-mining, pro-jobs and personnel from Alaska who are part of those policies are going to stop," Sullivan said.
The federal government has a big say in a range of issues affecting Alaska, including proposals to build a road through a remote wildlife refuge and drill for oil in the Arctic National Wildlife Refuge.
According to the report, Sullivan said Zinke was clear in his call that it was in response to the "no" vote Murkowski cast last week Tuesday on the motion to proceed with a debate on the House-passed health care legislation.
The day Zinke made the call, Trump tweeted his ire at Murkowski's vote, stating it had "really let the Republicans, and our country, down."
Following the bill's failure last Friday, Trump tweeted again, saying: "3 Republicans and 48 Democrats let the American people down."
Read: Who Is Lisa Murkowski? Trump Blasts Republican Senator On Twitter​
Murkowski, who leads the Senate Energy and Natural Resources Committee, said last week she did not consider the call from Zinke a threat. "He was just sharing the concern that the president expressed to him to pass on to me," she told reporters.
She termed the equation between her and Zinke, who is a former Montana congressman, as a "cordial, respectful and friendly relationship," saying "I don't think that will change one bit."
Zinke termed the idea he threatened Murkowski or Sullivan "laughable," adding "the moon has been characterized as other things, too."
The photo of the two smiling over beers tweeted by Zinke to his nearly 50,000 followers on his official Interior Department account may suggest they might have buried the hatchet. The jury is still out on whether it will have any bearing on the Interior Department's probe.
© Copyright IBTimes 2023. All rights reserved.