Sacha Baron Cohen Banned from Oscars: 'Dictator' Star's Publicity Stunt or Academy's Weakness?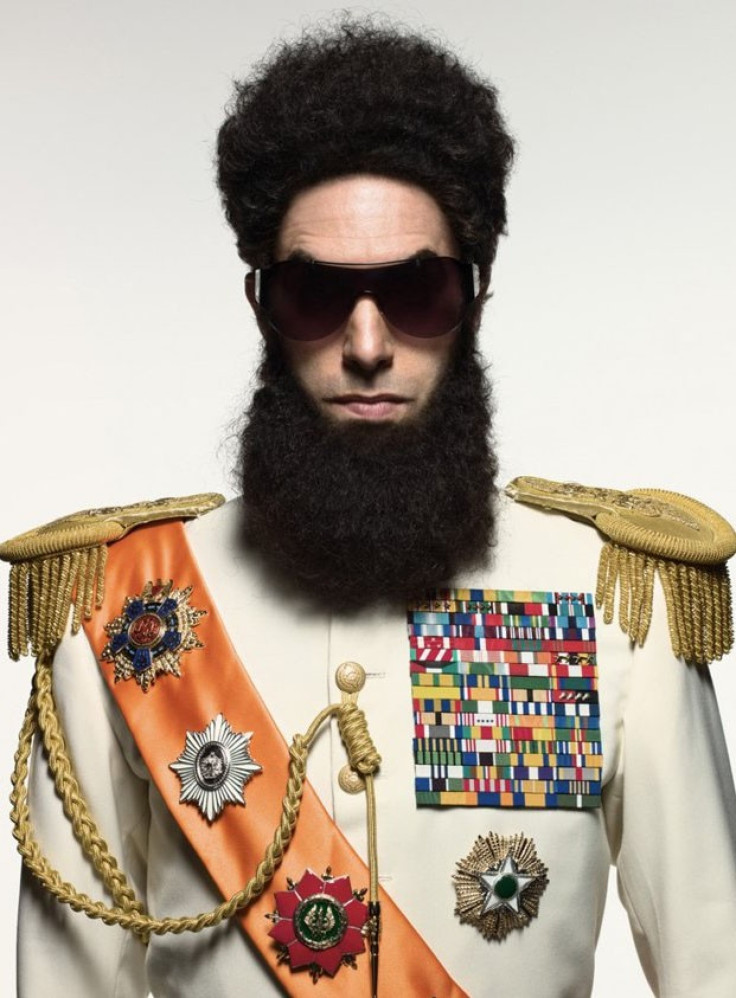 Sacha Baron Cohen has been banned from Sunday's Oscars.
But with a condition -- he can get his tickets back if he promises not to pull his planned stunt to promote his new film, The Dictator.
Unless they're assured that nothing entertaining is going to happen on the red carpet, the Academy is not admitting Sacha Baron Cohen to the show, Paramount, the studio responsible for The Dictator, told Deadline on Wednesday.
Cohen's original plan was to show up to the award show as Admiral General Alladeen, otherwise known as the title character in the film. Just like its predecessors, Bruno and Borat, The Dictator is a controversial one, with reports that Cohen's character is based on Muammar Gaddafi and Saddam Hussein, and the 2000 novel Zabibah and the King, penned by Hussein. After working the red carpet as his Dictator character, Cohen had planned to change into a regular tuxedo and watch the show from his seat -- business as usual.
Earlier this week, the Academy of Motion Picture Arts and Sciences told The Hollywood Reporter that the ban wasn't happening and that Cohen was only going to be under close watch.
We don't think it's appropriate . . . his tickets haven't been pulled. We're waiting to hear back, a spokesperson told THR.
This is not the first time Cohen has made headlines in award show territory. In 2006, he attended the Toronto International Film Festival as Kazakhstani journalist Borat, in a publicity stunt involving a wagon operated by peasant women.
Three years later, in a planned stunt with MTV, Cohen arrived at the 2009 MTV Movie Awards in full Bruno gear (a nod to his 2009 film of the same name). At one point during the broadcast, Cohen, was suspended over the crowd, before falling on rapper Eminem, who walked out of the venue in a rage.
Now that Cohen has been banned from the Oscars (unless he arrives sans Dictator fanfare), it's safe to say that the film has emerged as the true winner. Whether or not this was a planned publicity stunt, with or without an Oscar appearance, Cohen's film has now generated more buzz than before, Deadline suggests.
For an Oscar year that began with controversies months before the actual show, it's no surprise that the Academy is playing it safe. Back in November, the Oscars made headlines when Brett Ratner dropped out as producer. The resignation was related to an anti-gay slur he made during a Q&A session for his film Tower Heist. He continued to embarrass the Academy (and himself) when he appeared on The Howard Stern Show, discussing his sex life in great detail.
The controversy continued some 24 hours after Ratner's exit, when Eddie Murphy gave up his own gig as Oscar host.
First and foremost I want to say that I completely understand and support each party's decision with regard to a change of producers for this year's Academy Awards ceremony . . . I was truly looking forward to being a part of the show that our own production team and writers were just starting to develop, but I'm sure that the new production team and host will do an equally great job, Murphy said in a statement at the time.
Cohen, 40, is an Academy member and stars in one of this year's nominated films, Hugo, by Martin Scorsese.
The 84th Academy Awards, hosted by Billy Crystal and produced by Brian Grazer and Don Mischer, is on Sunday at the theater formerly known as the Kodak.
Scroll down to watch the trailer for The Dictator, out May 11. (Note: some viewers may find the film's material to be inappropriate or offensive).
© Copyright IBTimes 2023. All rights reserved.