As Sally Weakens And Recovery Begins, Round 2 Could Be Forming In The Gulf Of Mexico
KEY POINTS
At least one person was killed and nearly 600,000 customers were without power along the Gulf Coast
Rescue and recovery efforts were underway along the Gulf Coast while the Mid-Atlantic braces for flooding
The National Hurricane Center is tracking another front forming in the Gulf of Mexico
Rescue and recovery efforts were underway Thursday along the Gulf Coast after Hurricane Sally hammered the region with heavy rain and winds for nearly three days. At the same time, weather officials warned of another storm forming that may be headed toward the U.S.
Sally has since been downgraded to a tropical depression by the National Hurricane Center, but there are still flash flood warnings in effect for parts of the Mid-Atlantic region. As of 7:30 a.m. Thursday, Tropical Depression Sally was moving northeast at 12 mph with winds averaging 30 mph.
In the wake of Sally, at least one person was killed by the storm in Orange Beach, Alabama, and over 590,000 customers between southwest Louisiana and the Florida Panhandle were without power. Many areas within the region were also struggling with widespread flooding which the NHC warned could be "historic," leaving many trapped. Emergency crews began conducting rescues in each state once the worst of Sally passed but have not provided numbers on how many people have been rescued.
"At one point we were grabbing things to evacuate because the water was starting to get up to the second level and then by that point it was too late for us to go anywhere," Florida resident Kirsten Colla told Weather.com.
"I've never seen anything in my life like what I saw today. It happened so fast, so quickly, and it kind of stopped the same way."
Despite Sally rapidly weakening since making landfall on Wednesday, the NHC warned flooding will still be an issue for some parts of the Gulf Coast and Mid-Atlantic as the storm moves northeastward.
"Widespread flooding is expected from central Georgia through southeastern Virginia," the NHC said. "Along the Gulf Coast, most widespread moderate to major river flooding form the historic rainfall event will crest by the weekend, but rivers will remain elevated will into next week."
The NHC was also tracking another tropical disturbance in the Gulf of Mexico forming off the coast of eastern Mexico. It is forecast to strengthen heading into the weekend and is expected to shift its movement north-northeastward toward the U.S. Gulf Coast.
"Thunderstorm activity has continued to increase and become better organized this morning in association with a well-defined low pressure system located over the southwestern Gulf of Mexico," the NHC said.
"Upper-level winds are gradually becoming more conducive for development and, if this recent development trend continues, a tropical depression or a tropical storm could form later today. The low is expected to meander over the southwestern Gulf of Mexico for the next day or so before moving slowly northward to northeastward on Friday and Saturday."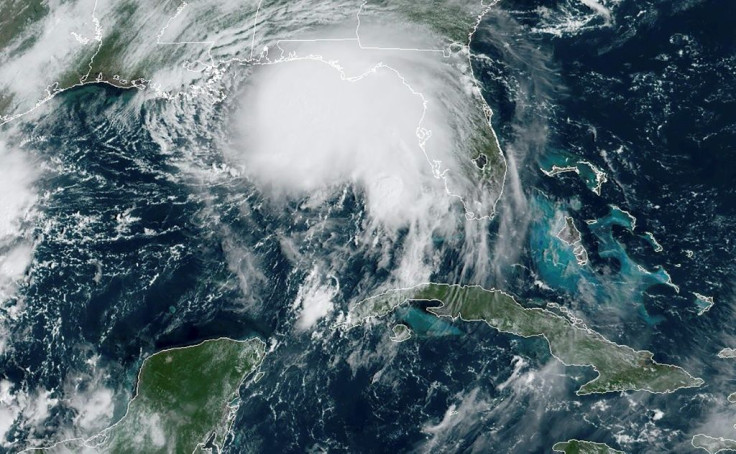 © Copyright IBTimes 2023. All rights reserved.