Samsung Galaxy Note 2 Release Date For AT&T Allegedly Revealed; Rumors Indicate Same Launch As Windows Phone 8 [REPORT]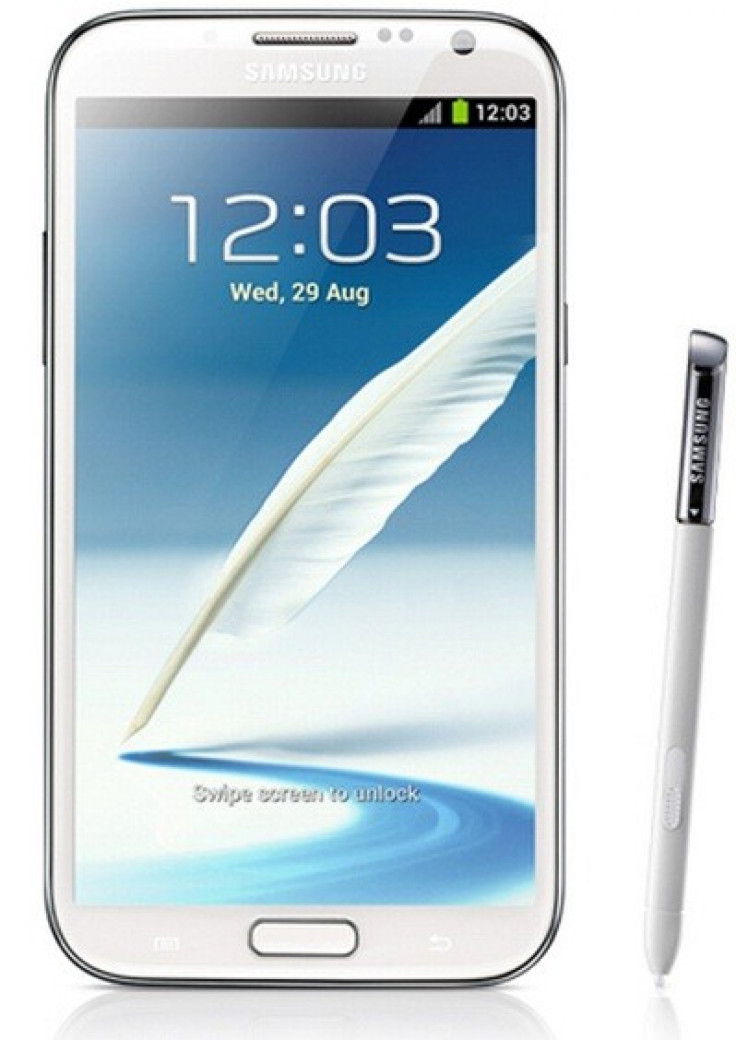 Samsung has not officially revealed the release date of its Galaxy Note 2 yet, but a source has indicated that it may arrive at the end of next month. A tip to BGR indicates the Samsung Galaxy Note 2 may be available on AT&T beginning Oct. 21.
This is reportedly the same day that Nokia's Windows Phone 8 will be released for AT&T, according to the tech news site, citing information came from a "trusted source." A spokesperson for AT&T declined to comment to BGR.
Samsung had unveiled its Galaxy Note 2 device just before the annual IFA trade show in Berlin in late August, laying to rest the countless rumors and speculations that had been circulating the Web.
Fans will have to wait until next month to know for sure if this release date rumor is true, but a Samsung executive has also said that it will launch in October. The Korea-based company's JK Shin told reporters on Friday that the Galaxy Note successor would be released during next month, according to Korean news source Yonhap News Agency.
The Samsung executive also added that the Galaxy Note 2 is expected to surpass its successors in sales upon launch.
"Sales may grow more than two-fold," Shin said to Yonhap News Agency.
Both comments about the Galaxy Note 2 sales and its October release date have been confirmed by a Samsung spokesperson, the Korean newspaper reported.
Samsung's Galaxy Note 2 will feature a 5.5-inch display, a thinner and lighter body, and a redesigned S Pen stylus, just as rumors have previously indicated. In terms of specs, Samsung's "phablet" device will come equipped with a 1.6GHz quad-core Exynos processor, a Super AMOLED display, and a 1280 x 720 display resolution, which is the same as that of the original device.
Despite speculations that said the Samsung Galaxy Note 2 would ship with Android 4.0 Ice Cream Sandwich, it has been confirmed that it will feature the latest iteration of Google's mobile operating system: Android 4.1 Jelly Bean.
Along with its flagship Galaxy S3 device, Samsung's Galaxy Note 2 will be competing against rivals Apple, who recently unveiled its iPhone 5, and Microsoft with its brand new Nokia Windows Phone 8 smartphones. The source that spoke to BGR said that the Nokia Lumia 920 would be released for AT&T on the very same day as the Galaxy Note 2.
However, it has yet to be announced which carriers will support the soon-to-be-released Samsung device. The original Galaxy Note made its debut on AT&T, and looks as if its successor will follow suit.
Rumors have indicated that the Galaxy Note 2 will come to Sprint, but will not be available for Verizon. A post in the XDA developer's forum that surfaced earlier in September said that an unannounced Samsung phone with the model number SPH-L900 was discovered in the comapny's research description framework. The author of the post said that this model number indicates that it is a Sprint device.
As for Verizon, as the carrier has announced its own "phablet" counterpart: the LG Intuition, leading some to believe that this could be its own variation of the Galaxy Note 2. However, no official announcement has come from Verizon, AT&T or Sprint, so this can only be considered rumor at this point.
© Copyright IBTimes 2023. All rights reserved.