Samsung Galaxy S3 'Mini' Coming To Dethrone The iPhone 5? Invitation Hints At Oct. 11 Announcement In Germany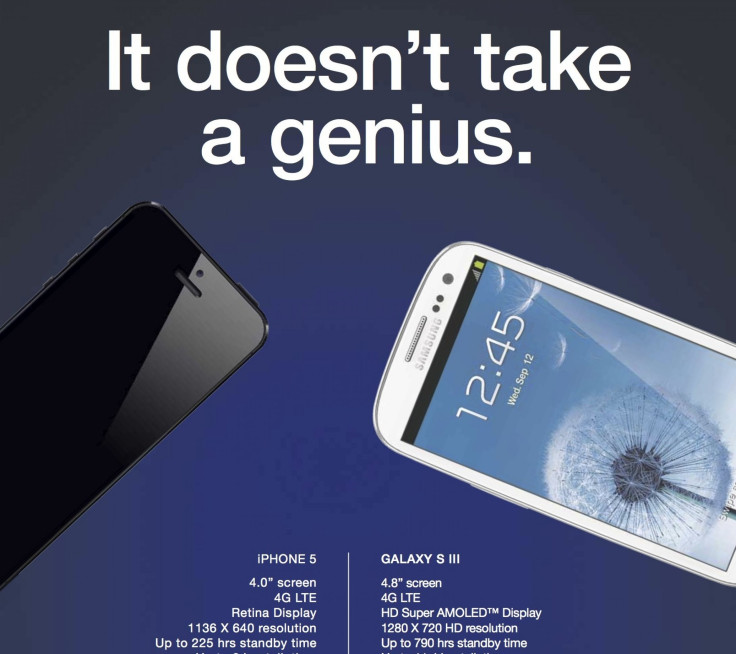 Samsung may have plans to steal some thunder from the iPhone 5 on Oct. 11 by introducing a new, smaller smartphone to its Galaxy S line-up, according to wireless tech blog Unwired View.
On Tuesday night, Samsung's German arm sent out invitations for an event being held next Thursday, with a message that, loosely translated, said, "Something small will be really big," and "get ready for a little sensation."
The invitation was written over a superimposed S, which in all likelihood means Samsung will be unveiling a new Galaxy S device. German tech site MobiFlip believes that this invitation could only mean Samsung will unveil a new "mini" Galaxy S3 on that day.
If the 4.8-inch screen of the Galaxy S3 wasn't appealing enough to some customers, Samsung may believe its superior specs packed into a smaller four-inch screen – the same display size used by Apple in the iPhone 5 – could help sway those undecided customers in the market for the latest, greatest smartphone.
A "mini" Samsung Galaxy S3 would likely include most of the same features as its big brother, only in a more compact package. Even though the Galaxy S3 boasts a big, beautiful 4.8-inch OLED screen, lab comparisons of the device with the iPhone 5 revealed that the color quality, color accuracy and brightness of the iPhone 5's display are all significantly better than the PenTile OLED screen of the current Galaxy S3. DisplayMate, the company that compared the two screens, said Samsung's OLED technology has "a very promising future." Still, the Galaxy S3's display had about half the brightness of the iPhone 5 and a larger color gamut, which "leads to distorted and exaggerated colors … so many images appear over saturated and gaudy."
After the iPhone 5 was unveiled on Sept. 12, Samsung ran an anti-iPhone ad in several newspapers on a Sunday to help remind people that its flagship smartphone for 2012 already has most of the desired specs of the iPhone 5. The ad, entitled "It doesn't take a genius," was obviously a barb intended for Apple, which employs "Geniuses" at its retail stores. The ad then proceeded to list all of the specs of the iPhone 5, comparing them against the specs and features of the Galaxy S3 smartphone. Its closing punchline: "The Next Big Thing Is Already Here."
The full text from the Samsung attack ad is below:
"It doesn't take a genius.
iPhone 5: 4.0" screen, 4G LTE, Retina Display, 1136 x 640 resolution, up to 225 hours standby time, up to 8 hours talk time, full HD 1080p video recording, 3.95 oz weight, 1GB RAM, Siri, 16, 32 or 64GB fixed internal storage, iOS 6.0 OS, a totally different plug.
Galaxy S III: 4.8" screen, 4G LTE, HD Super AMOLED Display, 1280 x 720 HD resolution, up to 790 hours standby time, up to 11.4 hours talk time, full HD 1080p video recording, 4.7 oz weight, 2GB RAM, S Voice, 16 or 32 fixed + up to 64GB microSD storage, Android 4.0 OS, standard micro USB plug, NFC, Smart Stay, S-Beam, ShareShot, Group Cast, Direct Call, Smart Alert, Tilt to Zoom, Palm Swipe Capture, Palm Touch Mute Pause, Picture In Picture, Turn Over To Mute, Shake To Update, Removable Battery
The Next Big Thing Is Already Here. Galaxy S3."
In late August, Apple won a pair of major legal victory against Samsung, forcing the South Korean electronics giant to pay the Cupertino, Calif., company $1.05 billion in compensation "for willingly violating Apple's patents and trade dress." A nine-person jury found Samsung had infringed several Apple patents in more than 26 different smartphones and tablets, from the designs and appearances of the devices themselves to software and navigation features.
© Copyright IBTimes 2023. All rights reserved.