Samsung Smartphone Lineup 2015: Squeezed By Apple And Chinese Startups, Android Leader Preps For Galaxy S6 Launch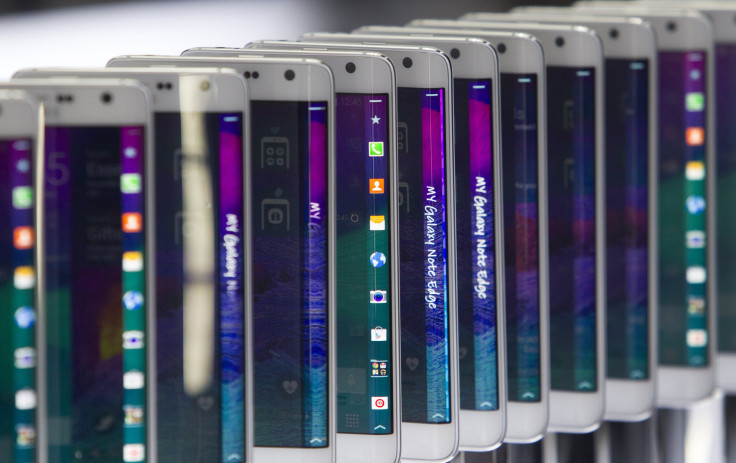 It's crunch time for Samsung Electronics Co. The phone maker is on the hook to fulfill promises it said will revitalize its brand as it looks to recover from a year in which it lost its stranglehold on the Android market amid competition from Chinese newcomers with smartphones that are both feature-packed and low cost.
Samsung's turnaround plans include introducing devices with curved displays, metal frames and other differentiating features it hopes will restsore healthy smartphone sales growth in 2015. The South Korean company also is cutting smartphone offerings by 30 percent, getting rid of less popular devices and putting the focus on bestsellers in an attempt to reduce brand confusion.
As of last year, the company offered well over three dozen smartphone models, many bearing perplexingly similar names such as the Galaxy Note 4 and the Galaxy Note Edge. "In the past when things were growing at breakneck speed, Samsung used their manufacturing prowess to create all kinds of specialized models for any carrier who was willing to buy them in volume," said IDC analyst Ken Dulaney. "When all the devices started to look similar and costs rose, they of course began to look at model reduction."
Devices that may be cut from Samsung's portfolio include lesser-known spinoffs of its flagship smartphones, like the truncated Galaxy S mini smartphone, the rugged and waterproof Galaxy S Active smartphone, and the camera-focused Galaxy S Zoom, according to IHS senior analyst Wayne Lam.
Samsung has not confirmed which devices will be cut, but the manufacturer's potential 2015 product line up already looks much different. It has established several new product lines, including the Galaxy A and Galaxy E. A Galaxy J line is also rumored to soon be announced, in addition to the tried and true Galaxy S and Galaxy Note lines. The upcoming Galaxy S6 smartphone should be on track to debut in March.
The new arrivals beg the question of whether Samsung is serious about simplifying its lineup, as consumers will still face potentially overwhelming choices in the months ahead:
Galaxy A Line
The mid-range Galaxy A series includes the Galaxy A3, Galaxy A5 and the recently announced Galaxy A7. The devices are aimed at young, photography and social media driven consumers. The Galaxy A3 is priced at about $329.99 unlocked, while the Galaxy A 5 sells for about $399.99.
Galaxy E Line
The Samsung Galaxy E5 and Galaxy E7 were announced last week and will launch to the Indian market in mid-January. The devices are to be priced at 19,700 Rupees ($317 U.S.) and 23,000 Rupees ($370 U.S.) respectively.
Galaxy J Line
The Samsung Galaxy J1 is a rumored phone that may be poised for the super low-cost entry level market. Images reportedly leaked Monday, in addition to hardware details, indicate a fairly low-end device. Price details are not yet public. The Galaxy J1 would follow the Samsung Galaxy J, which launched in Japan in 2013. However, the J had much more advanced hardware for its time.
Galaxy S Line
Samsung hopes the Galaxy S6 flagship smartphone will show its dedication to a new product strategy. The manufacturer has reportedly nicknamed the device "Project Zero," indicating a clean slate in its development. The Galaxy S6 is expected to include major hardware and software changes from its predecessors. The Galaxy S6 may include such advanced specs as a Quad HD (2560 x 1440) display, a 64-bit processor, increased storage capacity, a powerful camera and a single chip to house all of its sensors. The device may be announced in March at the World Mobile Congress in Barcelona and could hit stores in April.
Samsung Galaxy Note Line
A new Galaxy Note smartphone is still far off in Samsung's pipeline, considering the Galaxy Note 4 just launched about three months ago. However, the device is one of Samsung's most popular after the Galaxy S series. The next Galaxy Note smartphone may include similar design and software upgrades as the Galaxy S6.
Consumers' Last Straw
Samsung's smartphone sales suffered greatly in 2014, for which the company blames a heavily saturated market with many indistinguishable devices. Its share of smartphones sold worldwide in the third quarter of 2014 slipped to a still market-leading 24.4 percent, compared to 32.1 percent in the same period the previous year.
The problem is that many of Samsung's own devices have become carbon copies of one another. Consumers saw little difference between the 2014 Galaxy S5 and the 2013 Galaxy S4, and the S5 in turn sold approximately 4 million fewer handsets than its processor.
Samsung is also feeling the heat in emerging markets, where domestic players like Xiaomi and Micromax are offering price-sensitive consumers devices with quality hardware and software for a fraction of the price of Samsung smartphones. Samsung also admits it was hit hard by the launch of the large-screened Apple iPhone 6 and iPhone 6 Plus in 2014. That became especially apparent when Samsung saw a 60 percent drop in profit during the third quarter, largely driven by declining smartphone sales.
Samsung's restructuring may also include price cuts to better compete in an overcrowded mobile market.
© Copyright IBTimes 2023. All rights reserved.