Is Santander's Mexican IPO The Death Of 'Goose' That Lays Golden Eggs?
Analysis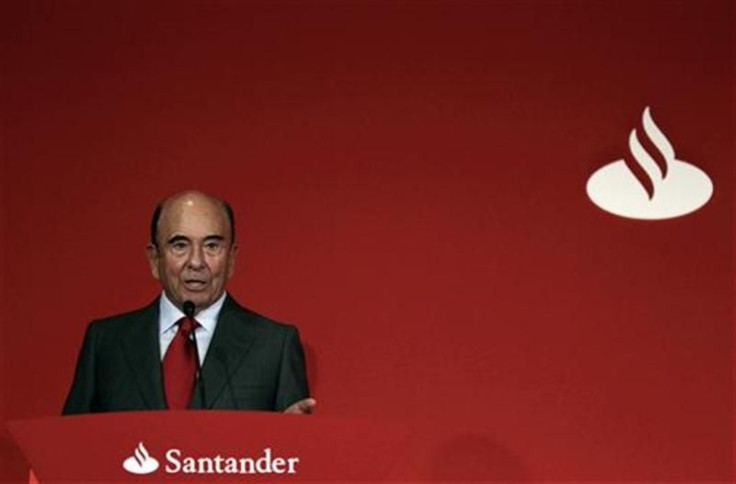 Shares of Banco Santander SA, Spain's largest bank, jumped Tuesday after it said it will spin off about a quarter of its Mexican unit in an initial public offering later this month in what appears to be a win-win proposition: Santander gets much needed capital, Mexico's government welcomes the development and the existing investors see their stock rise.
But the move by the Spanish bank, which aims to raise as much as 3.4 billion pesos ($4.28 billion) through the placement of as much as 24.9 percent of its Mexican unit, wasn't even at the top of the economic news in Spain, where a spike in unemployment and capital flight dominated media attention.
The planned offering only highlights the increased dependence Iberian banks have had on their overseas branches over the past few years and how, to package off those units and sell them, they could be killing the proverbial goose that's been laying the golden eggs.
Santander's IPO this month recalls its rise in Mexico following a 1994 currency crisis, one that resulted in a $50 billion international bailout and that reshaped the financial services industry there. Santander is now a powerhouse in the country, garnering 15 percent of the total corporate lending and 10 percent in consumer lending last year, according to Japanese investment bank Nomura. Its loan book growth in 2011, when it acquired General Electric's mortgage book in the country, was an astonishing 82 percent.
And those loans were incredibly profitable for Santander. While representing only 2 percent of the total amount the bank had lent globally, its Mexican business accounted for 10 percent of the bank's pre-tax profits in 2011. For the first half of 2012, profit in Mexico jumped 14 percent, while earnings in Spain fell by 37 percent from the financial crisis. Nomura called Santander's Mexican arm "a leader in cost efficiency" in a July report.
Therein lies the rub for Santander. In offering its Mexican unit to the public, it will raise enough, analysts estimate, to increase its capital buffer by half of a percentage point, something that could become increasingly important in the near future as international banking regulations take effect and the situation in Madrid worsens.
The bank has been dragging its feet on raising capital by, for example, keeping its dividend of 60 euro-cents per share unchanged through 2012 even as European regulators have clamored for the company to reconsider. While Santander operates in a subsidiary model that emphasizes the autonomy of each unit -- and plans to IPO its Mexican branch have been in the works for many months -- it could now be placed in a situation where it is selling off its most promising assets just to make the numbers square. The bank further plans to publicly list units in the United Kingdom, Poland and Argentina.
"They are selling off more profitable parts of the business to backfill the holes they have elsewhere," Benjie Creelan-Sandford, an analyst at Macquarie Bank in London, told Bloomberg News.
Long-term investors in the bank are worried such a strategy could be in play. But even shorter-term stockholders could be hit if that's the case. If Santander, which is only selling a minority stake of its Mexican unit, needs the cash badly enough, it could be going for a similar offering mere months from now, hitting newly minted company stakeholders with value-killing dilution along the way.
While share prices for Santander's Mexican unit would be pegged to the performance of that business vertical, "Santander's problems in Spain are absolutely an issue for holders of stock in its units overseas," Bill Rudman, a manager at Blackfriars Asset Management in London, told Businessweek. "The question of when they might sell the next 10 percent is always going to be on people's minds."
American depositary shares of Banco Santander, S.A. (NYSE: SAN) traded up nearly 2 percent early in the day, before settling slightly lower in early afternoon New York Stock Exchange trading. Shares recently quoted up five cents or 0.71 percent, to $7.09.
© Copyright IBTimes 2023. All rights reserved.
FOLLOW MORE IBT NEWS ON THE BELOW CHANNELS