Save Dallas The Rooster: Facebook Crows Out Loud For Oregon Girl Who May Lose Feathered Friend
The cluck is ticking for Dallas the rooster.
Thousands of supporters continue to rally around a 5-year-old Oregon girl after authorities in her small farming town ordered her to get rid of her feathered companion. Ayla Macnab purchased Dallas the rooster with her own money in June 2012, but the plucky bird is now said to be in violation of a local nuisance ordinance that was amended a month later.
Ayla's mother, Jill Macnab, launched a social media campaign in hopes of getting town officials to change their minds. A Facebook page supporting the cause has swelled to more than 7,400 likes, while an online petition has attracted more than 24,000 signatures. Macnab writes on the Facebook page that she's hoping to present the signatures at the Dufur City Council meeting on March 11.
Dufur, where the Macnabs live about 100 feet from the city limits, is a community of roughly 600 residents located about 100 miles east of Portland. The ordinance in question is not an outright rooster ban, but it does prohibit noisy animals that cause a nuisance within city limits, according to a report by Oregon's Fox 12. Following a noise complaint, Macnab says she received a letter from the city demanding Dallas' removal. She said Ayla was devastated and even tried to use $186 she'd been saving for a trip to Disneyland to pay the city off. The child is hoping to be able to show Dallas at a county fair this summer.
Roosters are known to crow during the early morning hours, and local ordinances barring them as pets -- or limiting their numbers -- are not uncommon. But Macnab insists that Dallas "is not a loud rooster -- in fact, our neighbors don't even hear him when he crows most days." She told local news outlets that her property is located between two fields.
Last week, Macnab posted that she is awaiting a decision from a nuisance abatement officer. She wrote that she presented a petition signed by 117 Dufur residents but was told it was not "valid evidence" to support her case. As of Tuesday, she posted that there is still no word on the final decision. The city did not respond to a request for comment.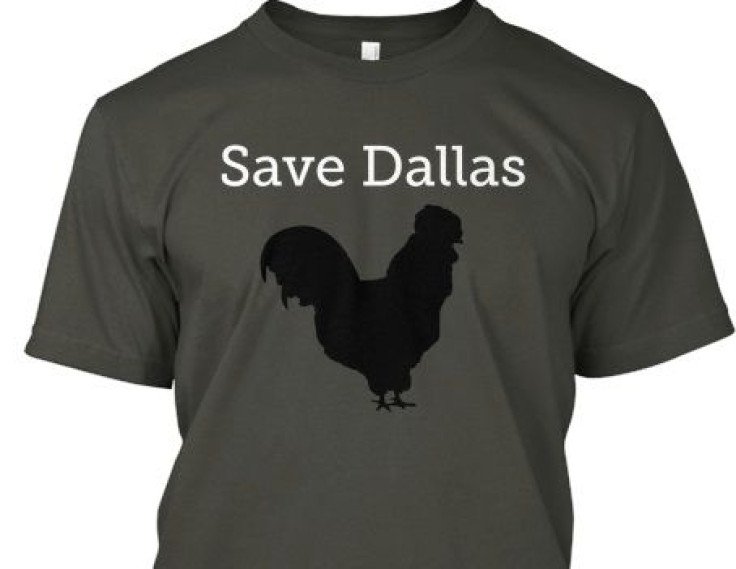 In the meantime, Facebook users are expressing their support through encouraging message and photos, with some buying "Save Dallas" T-shirts posted on the website Teespring.com. Some fellow rooster owners are posting photos of their own feathered companions to show their support.
Watch a video of Ayla and Dallas below.
© Copyright IBTimes 2023. All rights reserved.