'Scorpion' Season 4 Spoilers: Is Paige Jealous Of Happy, Walter's Closeness?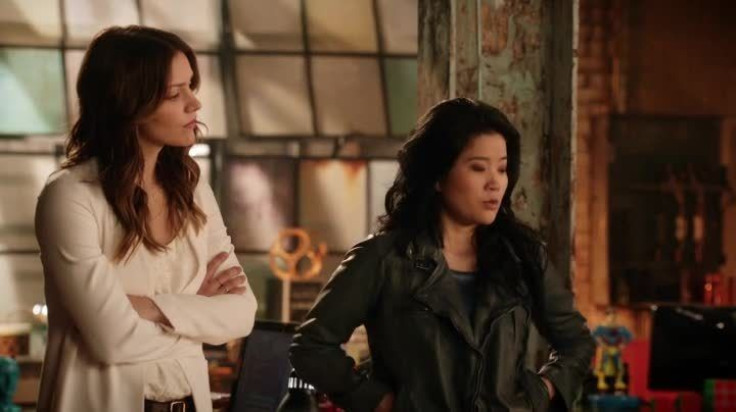 "Scorpion" Season 4, episode 4 will see Paige (Katharine McPhee) seemingly expressing her dislike for Happy (Jadyn Wong).
In "Nuke Kids On The Block," Team Scorpion is assigned to decommission and old nuclear missile. While at work, Happy talks about the Commodores and what she would do to bring back that type of American funk/soul band. She says that she will focus on the group's harmonious interaction, which includes of all of the members working together.
But Paige isn't having it. She tells Happy that the reason behind the Commodores going their separate ways was because some of them got sick of each other especially since some of them just keep hanging around. Paige is throwing shade at Happy for always spending time with her boyfriend, Walter (Elyes Gabel).
He senses that Paige is trying to convey a different message and tries to stop her from saying anything more. Paige and Walter have been struggling with their relationship since they recently came to realization that it's difficult to work with someone you love. Happy, on the other hand, has been married to Toby (Eddie Kaye Thomas), but it seems that the two of them have been avoiding each other.
In the sneak peek released by CBS, Happy realizes that Paige was really trying to say. She asks her if it's okay for Walter to pass on the wrench to her. Paige says that it's not a problem, but since she's upset, she decides to mute their communication lines. When Happy tries to reach for the wrench, it slips from her hands and hits a container filled with toxic vapor.
Everyone panics and when they try calling for Paige's help, she could not hear him. In the next scene, Paige is standing close to Toby, who is playing very loud music. Back at the asylum, Sylvester (Ari Stidham) tries to open the door, but it's locked.
Will Walter, Sylvester and Happy be able to survive before the toxic vapor suffocates them? Find out in "Scorpion" Season 4, episode 4 on Monday at 9 p.m. EDT on CBS.
© Copyright IBTimes 2023. All rights reserved.