'Scream Queens' Season 1 Spoilers: First Trailer Released; Watch The Terrifying Video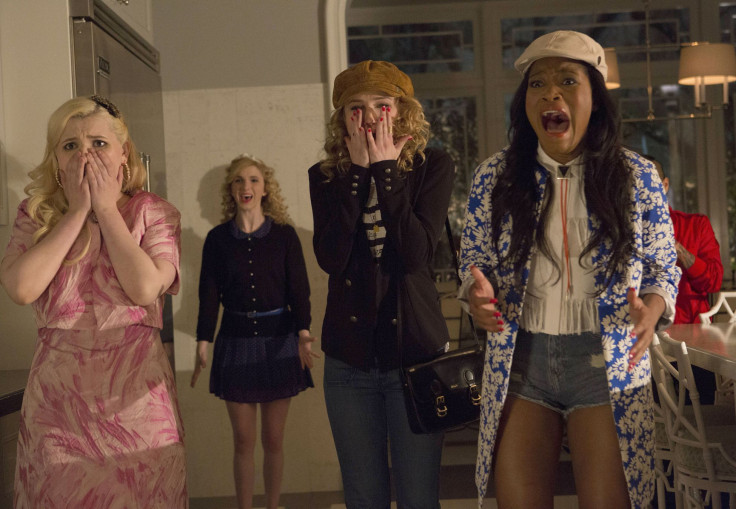 Are you prepared to be scared? Fox has just released a frightening, new look at the forthcoming horror series "Scream Queens." And mark my words, the trailer for the drama, which is slated to air its series premiere in October, will have you screaming for more!
In the 30-second promo video of the Ryan Murphy-created thriller, viewers get a taste our just how wildly gory the program will be. The trailer kicks off with Emma Robert's fashionable character Chanel greeting the new Sorority Pledges of Kappa Kappa Tau.
"Good evening, idiots," the president of the "world's meanest sorority" says to her fellow sisters.
But despite Chanel's wickedness, students flock to join to the sorority that has been forced to accept everyone (even the "losers") per Dean Cathy Munsch's (Jamie Lee Curtis) request.
"She makes Chanel have to accept everyone into the sorority so anyone who pledges has to be accepted. To Chanel, that's completely crazy talk. It means that anyone she thinks is a loser now has to be accepted into the sorority," Roberts dished to Entertainment Weekly.
And Chanel won't be the only one weary of this new rule. In the trailer, a fellow student warns his friend not to join KKT because of unsettling rumors he's heard. "You can't join the Kappa Kappa Tau," he pleads. "That house is dangerous."
And he's right, because the next thing viewers hear is a scream from Chanel as she witnesses an intruder dressed in all red and a devil mask menacingly standing behind her while she looks into her vanity mirror.
The showrunner revealed to ET Online that the man/woman behind the mask will be revealed in the very last episode of Season 1.
"Every week, it's really like a murder mystery. Who's going to get knocked off? And who's the killer? And not until the last episode do you find out who it is," Murphy teased, adding that "everybody has the motivation to be that killer" – including the Dean, who seems to have a thing for going head-to-head with KKT.
In the trailer, Curtis' character doesn't seem too worried that a potential murderer could be lurking on campus. Is it possible she could be the predator?
"Worst-case scenario, there's an actual serial killer on the loose," she nonchalantly says, causing our suspicions to rise.
The remainder of the trailer features a first look at "Problem" singer Ariana Grande's character as she gets spooked, "Glee" star Lea Michele's character Hester donning granny panties and a neck brace and lots -- we mean lots -- of screaming!
"What fresh hell is this?" Chanel concludes the video with a witty remark.
Are you excited for "Scream Queens" to premiere this fall? Sound off in the comments section below telling us what you thought of the trailer.
© Copyright IBTimes 2023. All rights reserved.
FOLLOW MORE IBT NEWS ON THE BELOW CHANNELS