Second Stimulus Check: Pelosi Optimistic About Deal Before Election Day Despite Market Collapse
KEY POINTS
Pelosi is waiting for the Trump administration to agree to several spending issues
The California Democrat and Mnuchin are still negotiating their differences on funding for a national coronavirus plan
Pelosi's remarks come after the U.S. market tanked
House Speaker Nancy Pelosi remains optimistic about striking a deal on a coronavirus stimulus package with the White House with only days to go before Election Day on Nov. 3. But that optimism runs counter to the market crash Monday, which signalled that investors, in their collective wisdom, expect such a deal to be a remote possibility.
The question before millions of Americans waiting for the government to put some much-needed cash in their hands amid the economic devastation of the coronavirus pandemic is who to trust -- the speaker or the market, which is considered smarter than any individual.
Drew Hammill, Pelosi's deputy chief of staff, tweeted late Monday that the California Democrat is waiting for the Trump administration to agree on several spending issues, including the funding of a national plan on coronavirus testing and contact tracing.
"We are hopeful their response will be positive as we also await the outcomes of talks between committee chairs," Hammill wrote.
"It is clear that our progress depends on Leader McConnell agreeing to bipartisan, comprehensive legislation to crush the virus, honor our heroes – our essential workers – and put money in the pockets of the American people. The speaker remains optimistic that an agreement can be reached before the election," he added.
Hammill's optimistic remarks came just before the U.S. markets closed Monday, with the Dow down 650 points, or 2.3%, the largest decline the index has seen in seven weeks. The S&P 500 dropped 1.86%, and the Nasdaq Composite fell 1.64%. U.S. crude oil futures also fell 3.2% to $38.58 a barrel.
The crash was attributed to Washington politicians' failure to reach a stimulus deal amid a darkening outlook as coronavirus cases spike across the country. The market seems to have sifted through the maze of signals and decided that a stimulus package cannot land before the election day.
Gary Cohn, former president and CEO of Goldman Sachs and former White House National Economic Council Director, credited the crash to the "100% probability" that fiscal stimulus is unlikely to arrive before Election Day. He also said the Senate's confirmation of Judge Amy Coney Barrett to the Supreme Court signaled a market collapse.
"I think now eight days away from an election, no one thinks we're going to have fiscal stimulus until after an election," Cohn said.
The fate of a new coronavirus stimulus package and a second round of $1,200 stimulus checks have been in the air since May. While both Speaker Pelosi and Treasury Secretary Mnuchin have been meeting with guidance from the committee chair to go over their differences in recent days, the chances of a bill being passed before the Nov. 3 election remains slim, Fox Business reported.
Many Americans are still hoping for a bill to be passed before the election, as thousands struggle to afford basic needs, including food and rent. If Pelosi and Mnuchin could come to an agreement before Nov. 3, millions of Americans may still receive a fresh round of $1,200 stimulus payments before the end of December.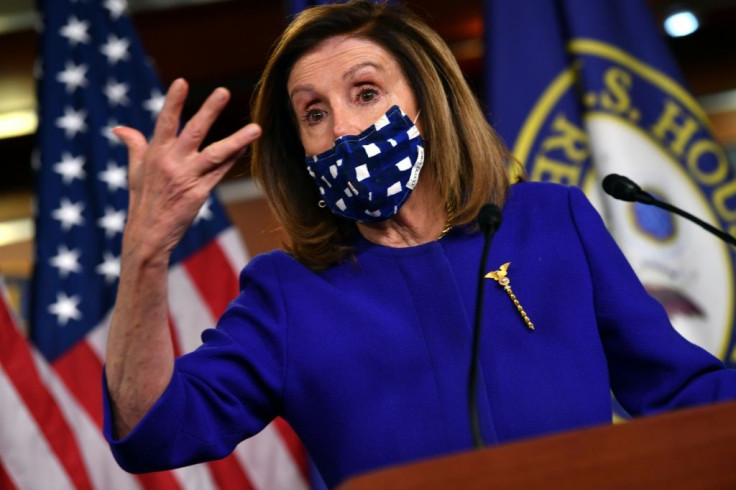 © Copyright IBTimes 2023. All rights reserved.