Second Stimulus Check Update: Pelosi, Mnuchin To Speak Tuesday After Failed Monday Discussion
KEY POINTS
Pelosi and Mnuchin failed to reach an agreement on the next stimulus bill Monday
They are expected to resume talks Tuesday while both the House and Senate are in recess
The next bill is expected to include another round of $1,200 direct stimulus payments
House Speaker Nancy Pelosi, D-Calif., and Treasury Secretary Steven Mnuchin are expected to talk again Tuesday after an hour-long phone call Monday yielded no new development on the next coronavirus relief bill or a second round of stimulus checks.
According to CNBC, the Democratic leader and the White House will continue bipartisan talks to try to strike an elusive pandemic relief bill that would likely include another $1,200 direct payment to Americans, $600 weekly unemployment benefits, federal aid to state and local governments, and funds for the airline and restaurant industries.
In recent days, both sides have been pushing to reach an aid agreement and distribute more stimulus payments to millions of Americans before the election on Nov. 3. Several lifelines set up by Washington expired weeks ago. But even if Pelosi and Mnuchin can reach an agreement, they would need to craft a proposal that can earn enough votes to pass in the Republican-held Senate.
Democrats passed a $2.2 trillion coronavirus relief bill last week but Senate Majority Leader Mitch McConnell, R-Ky., refused to bring it to the floor for a vote. The White House offered a counter-proposal for a $1.6 trillion plan. The Trump administration's offer would include $400 weekly unemployment benefits, $250 billion relief for state and local governments, and liability protections for businesses, but Democrats oppose legal shields for companies.
Rep. Kevin Brady, R-Texas, said the White House's proposal would encourage people to stay home. He also added that another point of contention between both parties is the amount of funds that should go to support local, state, and tribal governments.
If Democrats and Republicans can strike a deal, it would have to pass both the House and Senate before President Donald Trump signed. According to Politico, it could take a week between when an agreement is reached and when they can vote on a new bill, CBS Local reported.
Treasury Secretary Mnuchin previously said that the IRS and his department could get 50 million payments out within a week of a bill passing.
The House is currently in recess but is expected to reconvene on Friday, though they could be called back any time for a vote. McConnell also suspended the Senate until Oct. 19.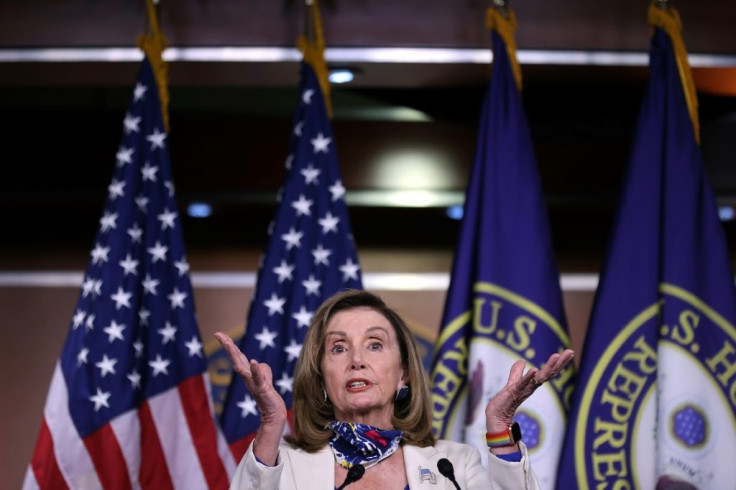 © Copyright IBTimes 2023. All rights reserved.
FOLLOW MORE IBT NEWS ON THE BELOW CHANNELS