Senators Are Bored At Trump Impeachment Trial: Starts Passing Notes, Eating Candy
KEY POINTS
The senior citizens in the Senate, which comprises most senators, might have a hard time sitting through up to eight hours of testimony a day
Senators cope with the pain and boredom as best as they can
Some even resort to talking to each other, which is forbidden by the impeachment rules
It will be a truly excruciating experience for 100 senators to remain silently glued to their seats -- unable to talk or text -- as they begin to endure up to eight straight hours a day of testimonies in president Donald Trump's ongoing impeachment trial. Their ordeal of pain and boredom will start from Wednesday and end January 28.
This is the agony that must be endured by all senators who, at the start of each day's trial, will hear the words, "All persons are commanded to keep silence, on pain of imprisonment."
It's going to be tough on these people since the average age of senators in the present 116th Congress is 62.9 years-old. This is a year older than the average age of senators in the previous 115th Congress, which was 61.8 years-old.
The youngest senator in the 116th Congress is 40 year-old Josh Hawley, R-MO, (born Dec. 31, 1979). The oldest is Dianne Feinstein, D-CA, (born June 22, 1933), who is now 86 years-old.
That boredom is battering the senators during the first day of the trial can be gleaned from media reports about their behavior while seated. CNN compared the senators to seventh graders and said these people are trying to cope with the restlessness as best they can.
Sen. Tim Scott, R-SC, and Sen. Ben Sasse, R-NB, were each chewing jawbreakers taken from Sasse's stash, while trading notes. Sen. Bill Cassidy, R-LA, stopped his impeachment note-taking to pass a note to Sasse, who wrote something on it and passed it on to Scott. Sen. Joni Ernst, R-IA, stood-up to stretch her numb legs.
Other senators took to note taking such as Sen. Lamar Alexander, R-TN, Sen. Cory Gardner R-CO and Lisa Murkowski, R-AK. Sen. John Hoeven, R-ND, fidgeted in his seat. Scenes like these will be repeated many times until January 28. The schedule until next week:
* Jan. 22: Democratic arguments
* Jan. 23: Democratic arguments
* Jan. 24: Democratic arguments
* Jan. 25: Trump team arguments
* Jan. 27: Trump team arguments
* Jan. 28: Trump team arguments
* Jan. 29: Senator questions
* Jan. 30: Senator questions
* Jan. 31: Four hours of debate on whether to subpoena witnesses and subpoenas. There will also be a vote on witnesses and documents, and a vote on other motions. If all votes fail, the Senate might move to the acquittal vote.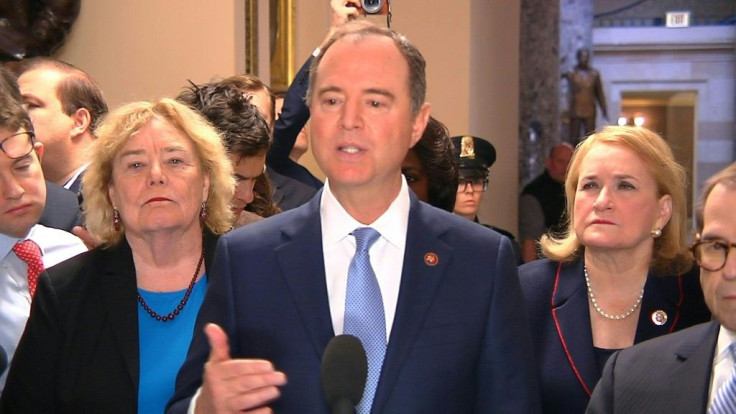 © Copyright IBTimes 2023. All rights reserved.