Sept. 11, 2001: A Look Back at The Onion's 9/11 Issue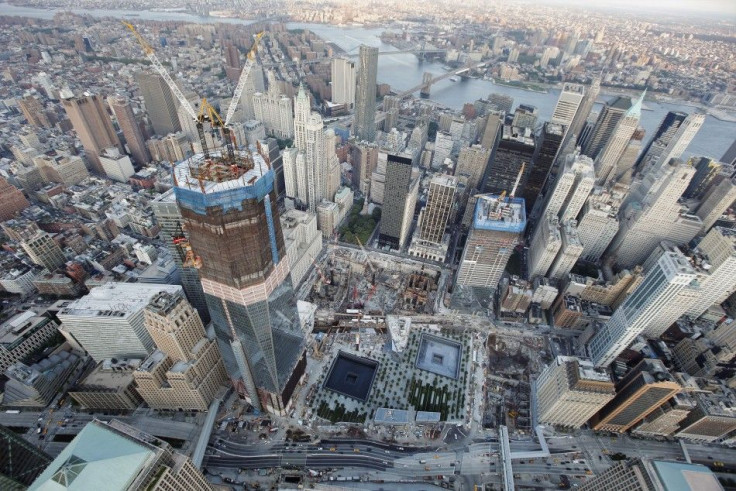 Less than two weeks after the 9/11 terrorist attacks, the satirical newspaper The Onion took a big risk by publishing a special issue lampooning the catastrophic events.
By any stretch, Americans should not have been ready for a humorous take on the devastating tragedy when the Onion published the special issue -- Holy F##king Sh#t: Attack on America -- on Sept. 26, 2001.
But somehow, the mock newspaper managed to cover 9/11 in a way that was responsible, sensitive, and -- almost miraculously -- hilarious.
Headlines like Hijackers Surprised to Find Themselves in Hell and God Angrily Clarifies 'Don't Kill' Rule gave readers a dose of comic relief without downplaying the seriousness of the attacks, or the sense of fear and panic Americans were still feeling.
An article titled Not Knowing What Else to Do, Woman Bakes American Flag Cake, perfectly captured the helplessness felt by so many who simply did not know how life could go an as normal:
[Christine] Pearson, who had never before expressed feelings of patriotism in cake form, attributed the baking project to a loss of direction. Having already donated blood, mailed a check to the Red Cross, and sent a letter of thanks to the New York Fire Department, Pearson was aimlessly wandering from room to room in her apartment when the idea of creating the confectionery stars and stripes came to her. ... Mixing the cake and placing it in the oven shortly after 3 p.m., Pearson sat at the kitchen table and stared at the oven door until the timer rang 50 minutes later.
A mock speech excerpted in U.S. Vows to Defeat Whoever it is We're at War With finds then-President Bush giving a confused address from the Oval Office:
America's enemy, be it Osama bin Laden, Saddam Hussein, the Taliban, a multinational coalition of terrorist organizations, any of a rogue's gallery of violent Islamic fringe groups, or an entirely different, non-Islamic aggressor we've never even heard of ... The United States is preparing to strike, directly and decisively, against you, whoever you are, just as soon as we have a rough idea of your identity and a reasonably decent estimate as to where your base is located.
An infographic geared towards parents gave fake directions on how to speak to your children about 9/11:
Sit your child down, and gently explain to him or her that the destruction of the Twin Towers was part of a Holy War, or jihad, against the U.S. perpetrated by a small faction of Islamic fundamentalists bent on the annihilation of Western society.
As your child may or may not know, much of modern Islamic fundamentalism has its roots in the writings of Sayyid Qutb, whose two-year sojourn to the U.S. in the late 1940s convinced him that Western society and non-Islamic ideologies were flawed and corrupt.
The Onion was reportedly considered for a Pulitzer Prize as a result of the 9/11 coverage.
Zack Stalberg, editor of the Philadelphia Daily News, had told Editor and Publisher magazine that the Onion was submitted for consideration in the commentary category.
As it went around the table, you could see that people were blown away by this work, Stalberg said. But it was a little too different, a little too risky. I voted to make it a finalist, but nobody else did.
The Onion has continued to do stories relating to the terrorist attacks during the last 10 years, in the same vein of the Holy F##king Sh#t issue. NYC Unveils 9/11 Memorial Hole, Construction Complete on the 9/11 Truther Memorial, and Guiliani to Run for President of 9/11 are among some of the funnier stories.
A decade after its 9/11 issue, The Onion began campaigning in earnest for a Pulitzer Prize as it celebrated its 1,000th issue in June 2011 -- though Onion editors admitted that the number was a rough estimate.
The anniversary issue featured an ad campaign from a so-called advocacy group called Americans for Fairness in Awarding Journalism Prizes, which described itself as a nonprofit watchdog group committed to exposing those who engage in improper journalism-award-giving. A full-page ad read: Simply put, it's time for the Pulitzer Board to stop the bias, stop the ignorance, and stop the neglect.
© Copyright IBTimes 2023. All rights reserved.