Serena Williams Runs Practice Drills While Pregnant, Gets Ready For Tennis Comeback In Instagram Video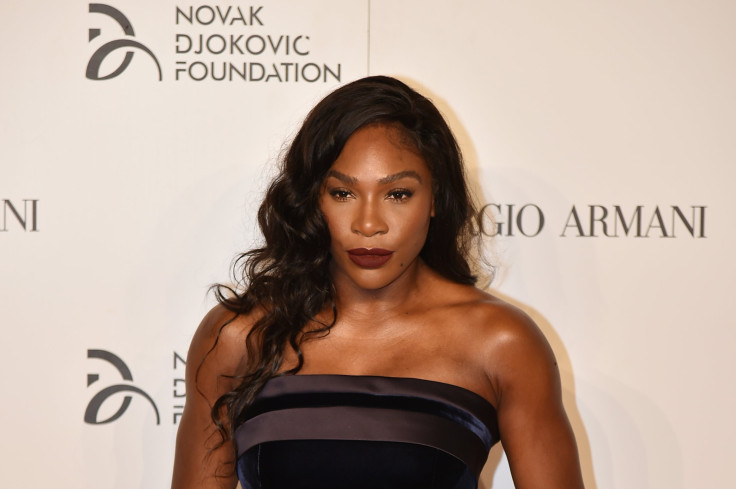 Serena Williams may be pregnant, but she's already gearing up for her big tennis comeback right after welcoming her first child.
On Monday, the tennis champ, 35, uploaded a photo and video of herself running practice drills on a clay court. In the snapshot, Williams holds up a tennis racket with one hand, while the other cradles her growing baby bump. She is dressed for practice in a black shirt, gray leggings, a black cap and black tennis shoes.
In the video of her morning exercise, Williams revealed that the Wimbledon tennis tournament, which is currently ongoing, has her itching to get back into competitive play. "Wimbledon got me like: Easy standing drills this morning. Go easy," the mom-to-be wrote in the caption of the clip.
READ: Serena Williams Shows Off Baby Bump: 5 Other Celebrities That Did The Same
Pregnancy certainly hasn't stopped Williams from winning the Australian Open. When Williams announced that she had a bun in the oven via Snapchat in April, it was revealed that the tennis superstar had already been eight weeks into her pregnancy while competing in the tournament. She broke the news via a Snapchat photo that she and fiancé Alexis Ohanian, co-founder of Reddit, are expecting their first child together. She later admitted that she had not meant to post the news on social media.
Williams, who will welcome her child with Ohanian in September, has been vocal about getting back on the court right after her pregnancy. In June, she also shared a clip of herself playing a practice match and dominating the court with her baby bump on full display. Check out the awesome video below.
Meanwhile, Williams showed off her baby bump in her photoshoot for Vanity Fair's August 2017 issue. In the cover photo taken by Annie Leibovitz, the tennis superstar wears nothing but a belly chain and skin-toned thong.
In the interview, she opened up about how she met and fell in love with Ohanian, revealing that their first meeting happened at the Cavalieri Hotel in Rome, Italy on May 12, 2015. Apparently, Ohanian sat a table nearby Williams while having breakfast, and the athlete did not like this. She tried to get him to move by joking that there was a rat, but Ohanian said he saw "rats all the time" back in his Brooklyn home. They had breakfast after this exchange and got engaged a year and a half later in December 2016.
As for her pregnancy, Williams confessed that "it just doesn't seem real." "I don't know why. Am I having a baby?" she said. "If you would have told me last year in October or November that I would have a baby, not be pregnant but have a baby, I would have thought you were the biggest liar in the world. This is kind of how I am right now. This is happening sooner than later, and it's going by so fast."
Williams also admitted that she has not yet finished preparing for the arrival of her bundle of joy. "I don't know what to do with a baby. I have nothing. . . . I've done absolutely nothing for the baby room," she said.
However, the father of her baby is confident that she will be a good mom. "She has the biggest heart," he gushed over Williams in an Instagram video after she debuted her baby bump at the 2017 Met Gala in May. "Everyone sees her success as an athlete, but all of that is layered on the size of her heart. She gives 100% of herself to everything she does: as a friend, as a lover, and soon, as a mother."
© Copyright IBTimes 2023. All rights reserved.