SEVENTEEN's S.Coups Tears ACL During Content Shoot; To Undergo Surgery Soon
KEY POINTS
S.Coups reportedly got injured while playing a ball game for a content shoot
His comprehensive medical examination revealed that his left knee sustained a torn ACL
S.Coups told CARATs not to worry too much about him via a Weverse post
After CARATs – SEVENTEEN's fans – were presented with the good news of Seungkwan's return from his health-related hiatus, it was shortly followed by sad news after Pledis Entertainment announced that SEVENTEEN's leader S.Coups sustained an injury during a content shoot.
According to Pledis Entertainment's Weverse announcement regarding S.Coups' health status and future activities, the 28-year-old K-Pop idol sustained an injury to his left knee when he landed while playing a ball game for a content shoot.
Following the incident, the K-Pop idol was taken to the hospital for a comprehensive medical examination, which later revealed that he had a torn anterior cruciate ligament (ACL) in his left knee.
S.Coups' agency noted that the artist is currently receiving the necessary medical treatment and will undergo surgery as soon as possible. Pledis also promised to give CARATs updates on S.Coups' treatments and rehabilitation schedule.
While S.Coups is highly determined to attend all of his group's prearranged schedules, he won't be able to participate in most of SEVENTEEN's official activities because his recovery and rehabilitation will be prioritized.
After Pledis Entertainment's announcement, S.Coups – whose real name is Choi Seung-cheol – took to Weverse to personally talk to his fans and lessen their worries.
"I was a little surprised at first because I was immersed and had fun filming, but I was treated at the hospital right away, so don't worry too much," he said.
"I'm sad that there are many things planned, but I think the first thing [I need to do] is to recover as soon as possible and show a good performance to CARATs, so I'm going to focus on recovery for the time being and consider treatment and rehabilitation as a top priority," he continued.
While he felt sorry for what happened, he assured his members and fans that he would greet them from time to time while recovering.
SEVENTEEN is scheduled to embark on its "Follow" to Japan tour from September to November, following the group's successful "Follow" to Seoul concerts last July 21 and 22 at the Gocheok Sky Dome in Seoul.
SEVENTEEN will take its concert tour to Tokyo, Saitama, Nagoya, Osaka and Fukuoka. The previously announced dates and venues for SEVENTEEN's "Follow" to Japan tour are:
September
Sept. 6 and 7: Tokyo Dome
November
Nov. 23 and 24: Belluna Dome, Saitama
Nov. 30: Vantelin Dome, Nagoya
December
Dec. 2 and 3: Vantelin Dome, Nagoya
Dec. 7, 9 and 10: Kyocera Dome, Osaka
Dec. 16 and 17: PayPay Dome, Fukuoka
SEVENTEEN will hold a total of 12 concerts in different cities in Japan for the "Follow" to Japan tour.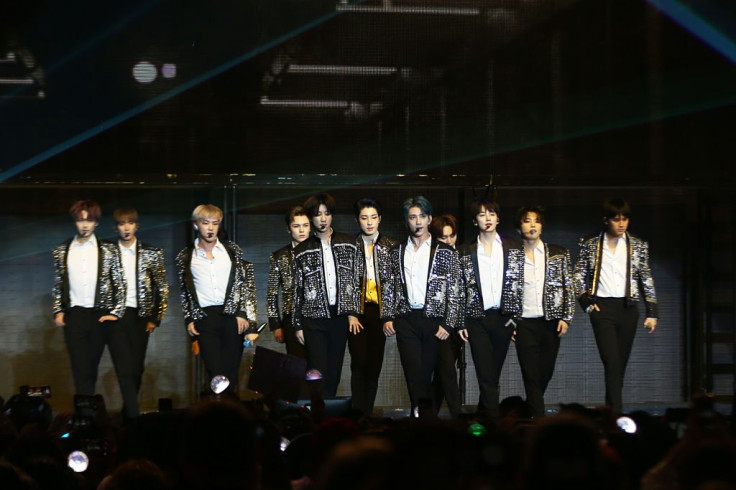 © Copyright IBTimes 2023. All rights reserved.