Severe Weather In Oklahoma, Texas, Arkansas; NWS Warns Of 'Critical Fire' Conditions
KEY POINTS
Heavy rain is expected in Oklahoma through Tuesday, while Texas will experience downpours
Flooding is possible in Arkansas, emergency managers warned
Severe weather is predicted in the Southern Plains through Wednesday
Multiple states are expected to continue experiencing severe weather conditions through Tuesday, including Oklahoma, Texas and Arkansas. The National Weather Service (NWS) has also warned of critical fire weather conditions affecting New Mexico, the Texas Panhandle, and Southern Nevada.
In its latest update regarding weather conditions in Oklahoma, NWS Norman said "a line of strong and severe storms will continue to track south over western north Texas and far southern Oklahoma through midnight." The agency warned of heavy rain, strong wind gusts and "some hail" in Durant, Madill, Marietta and south of Henrietta.
On Monday, a severe storm in the rural Kingfisher County in Oklahoma City spawned a small tornado that briefly touched down in the area, KFOR-TV reported. In a video captured by the outlet, the tornado can be seen forming up for several seconds before dispersing into dark clouds.
Over in Texas, KTRE-TV Chief Meteorologist Brad Hlozek said commuters "may want to grab the umbrellas" Tuesday morning as "several east Texas communities" are expected to experience "some nice downpours." Hlozek added that the Sun is projected to come around Tuesday afternoon.
For some parts of Arkansas, a "severe thunderstorm watch" has been issued and is valid through 4 a.m. CDT. The thunderstorm notice further warned of tornadoes, hail and scattered wind gusts of up to 70mph.
Benton County Emergency Management Director Michael Waddle has urged residents in Northwest Arkansas and the River Valley to remain alert due to the possibility of flooding. "When it comes to severe, massive rain like that, we expect localized flooding," Waddle told KFSM-TV.
Travis Cooper, the Deputy Director of Sebastian County Emergency Management, also told the outlet that they are expecting some power outages in Fort Smith due to tree damage caused by storms. Emergency managers across different counties in Northwest Arkansas said they will keep watch of weather conditions through Tuesday.
Meanwhile, the Storm Prediction Center (SPC) warned of "critical fire weather" conditions that could last through Tuesday. The SPC said it is expecting air mass to "remain quite dry" in New Mexico. The agency said that while scattered thunderstorms helped bring in some rain into the Texas Panhandle, "localized fire weather concerns" are still possible in the area. According to the agency, "fuels that have become critically dry" in Southern Nevada will "promote large fire potential."
As for the coming days, the NWS said it is expecting severe weather in the Southern Plains through Wednesday. Active thunderstorms are also projected "over the next few days" in southeast Colorado, much of New Mexico, Southern High Plains, and northern and eastern Arizona. The agency said high winds "will keep the fire weather threat" in the said areas.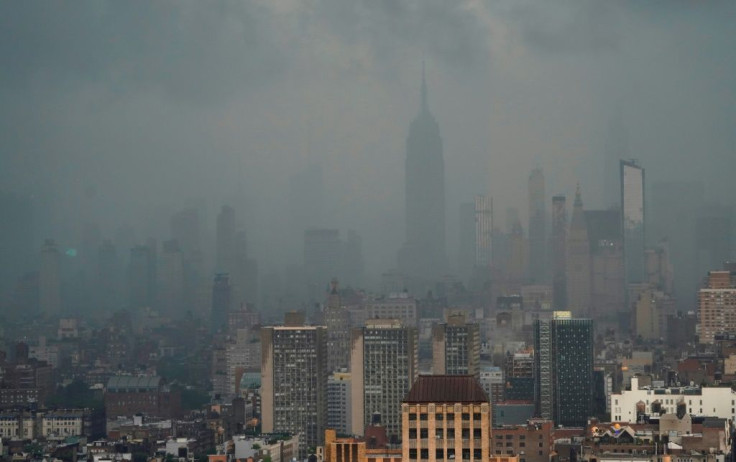 © Copyright IBTimes 2023. All rights reserved.