Shailene Woodley Wins MTV Movie Award And 'Started Sweating A Whole Lot. Like, A Waterfall Of Sweat,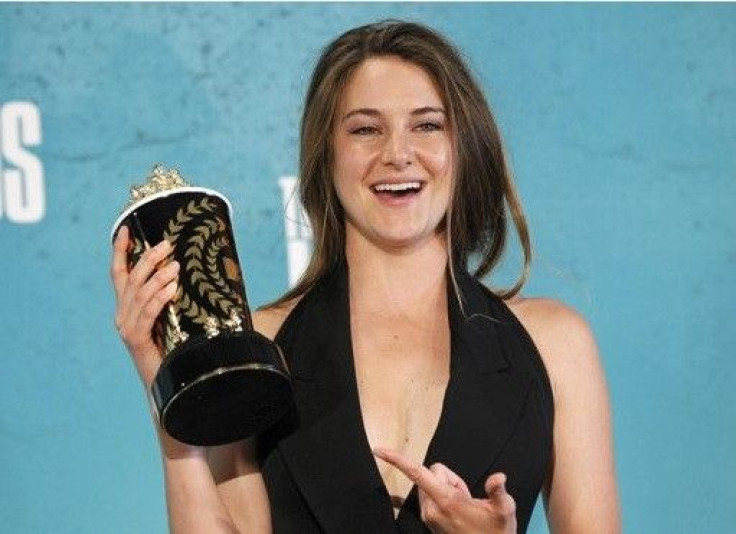 Shailene Woodley, the up-and-coming star of The Descendants, took home the Best Breakthrough Performance Golden Popcorn at the 2012 MTV Movie Awards.
The celeb-packed award show took place in Los Angeles on Sunday, and presented Woodley with the first MTV award of her young career.
During her acceptance speech, Woodley might have looked calm, cool and collected, but later on revealed that it was a little more nerve-racking than it might have seemed.
I started sweating a whole lot. Like, a waterfall of sweat, Woodley told MTV News, after the award show. I don't even remember what happened, except for Emma Stone and Andrew Garfield's smiling, awesome faces. Thank God they were up there. I would have been so nervous.
Woodley said host Russell Brand is one of her favorite comedians. I think he's just so effing funny, and I'm all about him and everything that he's saying. He's like a political, or like an anti-political activist, you know? And I really love his revolutionary thinking. I'm into it, she said. [He has] a really profound message, and without being preachy.
Woodley made her feature film debut last year in The Descendants, with George Clooney, for which she received rave reviews and was nominated for a Golden Globe.
In the film, Woodley played Alexandra King, the troubled daughter of Clooney's character.
Her next film will be The Spectacular Now, a high school drama that follows a teenage girl who convinces an alcoholic senior that his philosophy of living only for the moment might be self-deceptive.
Woodley plays the main characters love interest, Aimee Finicky, a social outcast.
The film, directed by James Ponsoldt, is in preproduction and is set for release in 2013.
© Copyright IBTimes 2023. All rights reserved.