'Sister Wives' Season 6 Spoilers: Kody Brown Gets Teary-Eyed In Emotional, Sneak-Peek Video Of 'Tell All' Special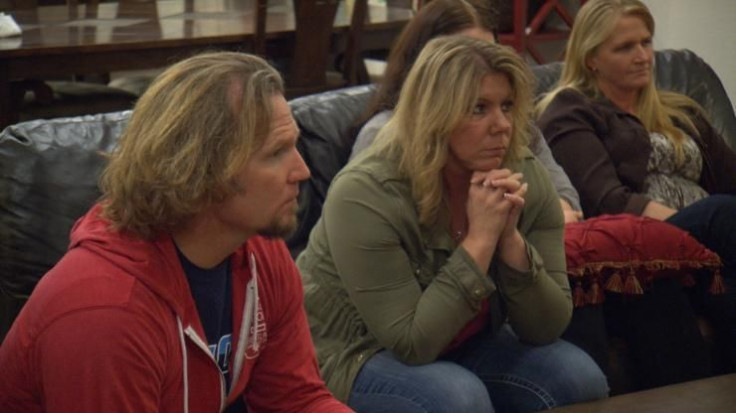 Better stock up tissues, "Sister Wives" fans, because rumor has it the Season 6 "Tell All" of the hit TLC series is going to leave you in tears. Or at least, that's what it did for Kody Brown.
In a sneak-peek clip of the upcoming, two-hour special, fans watch as the patriarch of the plural family becomes overwhelmed with emotion regarding the adoption of Robyn's children, Dayton, Aurora and Breanna.
"I've never seen you cry," Tamron Hall, who hosts the jaw-dropping event, says to the misty-eyed husband of Meri, Janelle, Christine and Robyn.
"There's a sense with the feeling that, you know, everything is so perfectly right," Kody explains before choking up once again. "Sorry," he apologizes. But leave it to the TLC star to quickly follow up the rare unveiling of his sensitive side with a joke.
When the "Today" reporter asks Kody how much of weight has been lifted off his shoulders since the judge granted him legal guardianship over of Robyn's children from a previous relationship, Kody quips back that "technically" the load has gotten heavier now that he's carrying "three extra kids."
"It was magical," Kody adds, channeling a more serious tone. "It was just so surreal and I was spinning."
But while Kody was "spinning," Meri was trying to distance herself. During the "Tell All," Hall points out that Kody's first wife, who gave up her legal title of being Kody's partner for the sake of the children, seemed detatched throughout the adoption process.
"I was dealing with a lot of other external issues during the whole filming of this season," Meri says, possibly referring to the catfishing incident, which involved Meri getting tricked online by a woman pretending to be a man.
During the "Sister Wives" special, fans will watch as Meri opens up about the shocking scandal and find out how Kody and her other sister wives will respond to her emotional, online affair.
The two-hour Season 6 "Sister Wives: Tell All" will air Sunday, Nov. 22, at 8 p.m. EST on TLC.
© Copyright IBTimes 2023. All rights reserved.