'The Sisterhood' Premiere: Cast Member Christie Young Opens Up On Casting Process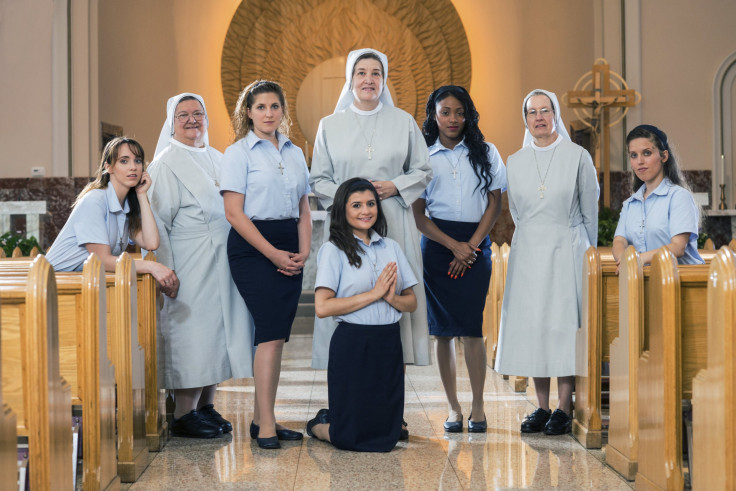 Christie Young remembers how nuns piqued her curiosity. At Catholic school, she would wonder what color hair was under their habits and what they did outside the classroom.
"They were kind of like mythical creatures," Young said, remembering her middle school mindset. Now more than a decade later, the 27-year-old is considering whether the monastic life is for her -- and she's turned to reality TV for help.
Young will be starring alongside four other women on Lifetime's new reality show "The Sisterhood: Becoming Nuns," which premieres Tuesday at 10 p.m. EST. The 10-episode series will follow the women as they visit convents across the U.S. to see whether they should take their vows, shed their earthly belongings and devote their lives to the service of God. Made by the creators of the breakout hit "Breaking Amish," "The Sisterhood" found women in the discernment process -- the first phase in deciding whether the life of a nun is the right path.
"The process of discernment is a way to become more attuned to God's call," Sister Maxine Kollasch, a member of the Sisters, Servants of the Immaculate Heart of Mary in Monroe, Michigan, told International Business Times. Discernment takes as long as two years and typically involves daily prayer, counseling, volunteer service and convent visits. "For some, discernment may lead toward marriage or parenthood or remaining in a particular profession. For some it may lead toward religious life," Kollasch said.
Young had been discerning on her own for a year when she got wind of the reality series from a co-worker. At first she was hesitant to share this private decision process with the world, but she said "a nudge" from God convinced her this was the right step to take.
"Ugh, reality TV and my faith? No thank you," Young said was her initial response in learning about the show.
Young went to a private Catholic school until middle school. The absence of religion classes at her public high school made her more aware of her faith and long for a Catholic community, she told IBTimes. When it came time for college, Young chose Franciscan University in Steubenville, Ohio, with the intention of being the "superhero Catholic girl" who would go to daily mass and pray the rosary. But that proved to be a challenge.
"I was on addition and subtraction and they were doing calculus," Young said describing how she compared to more devout students.
While the idea of becoming a nun came to her freshman year, it was in her mid-20s Young entered the discernment phase. And when producers for "The Sisterhood" vetted her to become a cast member, she took each step in stride. Young along with her four co-stars was interviewed several times by producers and vocation directors. All five also underwent psychological evaluation to make sure their intentions were clear.
"As I kind of kept walking through the process it occurred to me that it was an opportunity to be part of a new kind of ministry," Young said pointing to the popularity of reality TV, especially among millennials. And if successful, "The Sisterhood" would belong to a long line of Christian reality TV shows that have flourished -- but the first to explore the secret lives of nuns.
"Let's face it, the number of people entering religious orders is declining, at least for some," Susie Uhlik, a former nun who belonged to the Notre Dame Sisters in Omaha, Nebraska, for six years, told IBTimes. Indeed, women entering religious orders in the U.S. is on the decline. According to the Center for Applied Research in the Apostolate at Georgetown University, in the past 50 years the number of nuns has dropped 72 percent.
"A reality show would give a religious order publicity, and it might be able to speak to someone who is actually thinking about religious lives for themselves," Uhlik said.
But becoming a nun is no easy feat -- and the public eye might pervert the process.
"The emphasis for a religious order is kingdom-oriented, rather than ego-oriented," Uhlik said. "There is always the risk for someone, whose discernment is under the watch of the public eye, to get caught up in all the attention when ... an effective discernment process should be about one's inner life, rather than the public life."
For Young, the cameras furthered her journey rather than distracting her from it.
"It's real life. It's us on TV and the world is going to see that," Young said alluding to what she called "intense moments" with her cast members throughout the season. "I feel like the lives of the saints are very much that way -- you see all the good and the bad done."
"The Sisterhood: Becoming Nuns" premieres Tuesday, Nov. 25, at 10 p.m. EST.
© Copyright IBTimes 2023. All rights reserved.