Slam Dunk Contest 2014: Online Stream Info, TV Channel And Prediction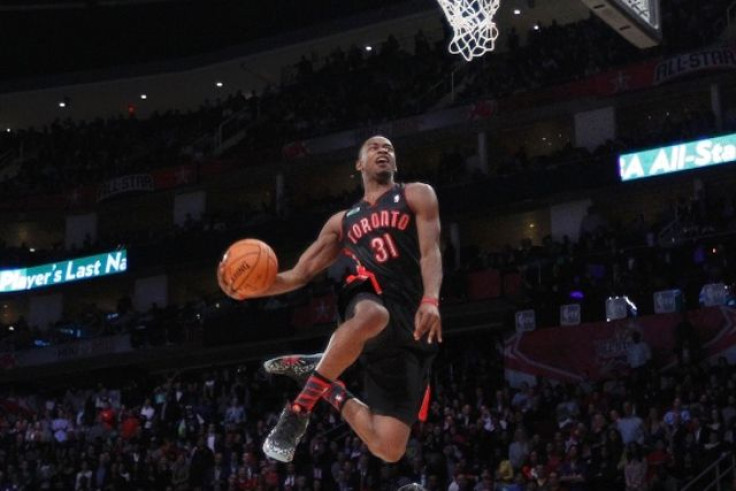 The 29th annual NBA Slam Dunk Contest will pit the East against the West for the first time in history in the final event of All-Star Saturday from New Orleans Arena.
The reigning champion, Terrence Ross of the Toronto Raptors, will defend his title in a new format that alines three of the East's best against three from the West.
Indiana Pacers forward and All-Star Paul George joins Ross in representing the East, along with Washington Wizards first-time All-Star point guard John Wall.
Sure to use his length and hops for some more unique dunks, George, the best player of any involved, has been dubbed the overall favorite after posterizing many opponents in the first half of the NBA season.
The West recruited three rising stars in the conference in Sacramento Kings guard Ben McLemore, Golden State Warriors swingman Harrison Barnes and Portland Trail Blazers point guard Damian Lillard.
The Rookie of the Year last season, Lillard gets the distinction of the shortest of all the throwdown's participants, a fact which has helped plenty of players win the trophy before like Nate Robinson and Spud Webb.
Ross looks to be the fourth player in history to win the slam title in consecutive years, following in the footsteps of Robinson, Jason Richardson, and Michael Jordan.
This is also George's second appearance in the contest after finishing third in fan voting back in 2012 to Utah's Jeremy Evans. With the exceptions of Ross and George, everyone else is a first-time participant.
Every contender in this year's contest was a top 10 first-round pick, with George the lowest taken at No. 10 overall back in 2010.
The contest will be the final event of All-Star Saturday, following the Skills Competition and Three-Point Shootout.
TV Channel: TNT
Time: The show begins at 8:30 p.m. EST and is supposed to run about three hours. The dunk contest should start at around 10:30 or 10:45 p.m.
Online Stream Info: A live online stream is available on TNT Overtime here.
Prediction: Barnes makes up for his lack of hops with some serious power, while George glides to the basket and uses his length better than most in the league. Look for those two to battle it out for the title, and Barnes to take the fan vote.
© Copyright IBTimes 2023. All rights reserved.