Snapchat Video Of Teen Throwing Kitten Sparks Outrage, Police Launch Investigation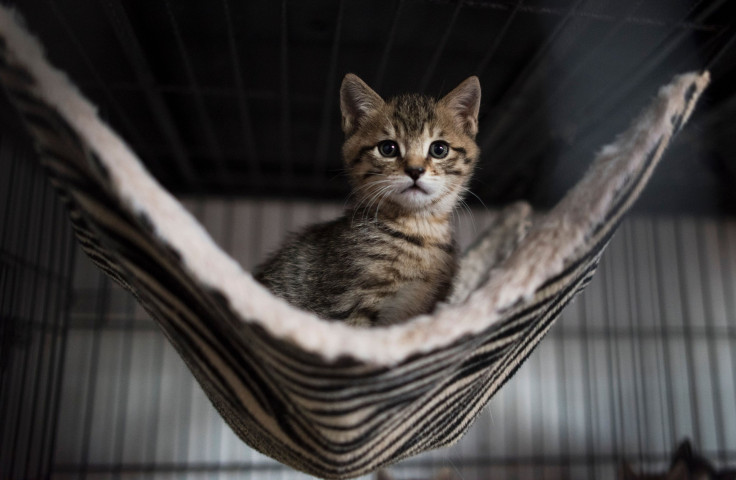 A disturbing video posted on Snapchat showing a teenager throwing a kitten across the street has sparked social media outrage prompting police to launch an investigation. A California police department was searching for an unnamed boy, believed to be 16 years old, who was seen in the video.
The graphic video, which lasts less than 10 seconds, was posted Saturday and was filmed in Ontario, California. The boy, identified on the social media site as Charlie, is seen lifting the animal with both hands, then flinging it high into the air. The kitten can then be seen hitting the ground.
"The kitten survived the incident, but did suffer an injured leg," Ontario Police Department said in a press release. "The Inland Valley Human Society is assisting with the investigation and the care of the injured animal."
Police also said the owner of the kitten had been located but there was no details about the whereabouts of the boy, who was not identified due to his age. As of Sunday, no arrests were made in the case.
The cat's owner, Perla, and her mother told NBC4 the video was too upsetting to watch, adding they hope the teenager was charged with animal abuse. Perla told local media she had found the kitten found months ago and named it "Spots."
"I just want him to know he hurt a victim that can't defend itself," Perla said.
One of the neighbor said the video was taken nearby to where the cat's owner lives.
"I know who he is but I don't know his name," neighbor Oscar Ramos told CBSLA. "He hangs around here in the alley all the time. Bunch of little kids doing drugs. They think they're cool. He probably did it just to look cool on video."
Social media users who were outraged after watching the video sent the footage to the Fontana Police Department, which said the incident had not occurred in their city.
"We are aware of a video that depicts the abuse of a cat. We thank everyone for contacting our department with the video. It has been determined that the incident took place outside our city and we are working with the appropriate jurisdiction to find the cat and the suspect," the department said.
One social media user, who commented on the original video, said: "Justice needs to be served that poor cat didn't deserve that, it really broke my heart hearing the cry for help it was making."
© Copyright IBTimes 2023. All rights reserved.
FOLLOW MORE IBT NEWS ON THE BELOW CHANNELS