Snooki Weight Loss: 'Jersey Shore' Star Flaunts New 98-Pound Body at Christmas [PHOTOS]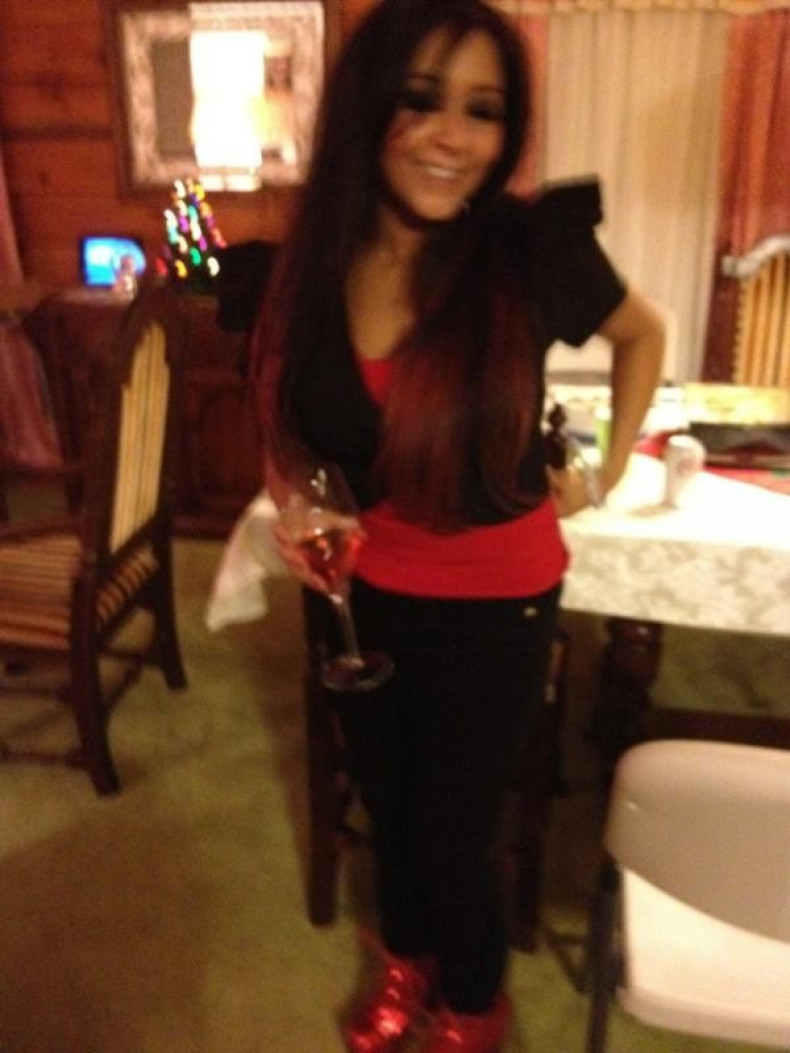 Snooki took time this holiday season to flaunt her new 98-pound figure with a series of glamor shots for her Twitter fans.
The Jersey Shore star took photos of her new body during Christmas, showing off toned legs, a tiny waist and a slimmer face. She wore sexy outfits like red skinny jeans, a lace mini skirt and sky-high glitter platforms.
Snooki, otherwise known as Nicole Polizzi, finally reached her goal weight of 98-pounds after years of struggling with her diet and eating disorders. But now, she seems happier than ever. She even allowed herself to indulge during the holidays with cookies and wine. Merry Christmas everyone!!! Hope you get all that you've wanted and enjoy your time with your loved ones!! I fricken LOVE XMAS!!! she tweeted.
She made sure to mention her beau, Jionni LaValle, writing: An had an amazing Christmas with jionni's family! Love my future husband ;). And she posted a photo wearing her namesake slippers.
Snooki's weight loss has been in the media headlines for weeks now, as the 4-foot 9-inch reality starlet shed more and more pounds. So happy I'm at my goal weight I was when I was in high school! Feelin fit is amazing and can't wait to tone up hardcore! she wrote to fans.
In her newest photos, the Jersey star looks almost unrecognizable. LOL so some girl comes up to me n goes 'you look like one of those girls from the jersey shows, but you look better.' Uhm thanks? Lmao, she tweeted.
The 24-year-old has credited the diet pill Zantrex for her dramatic weight loss. Zantrex is a fat burning tablet that has reportedly been used by other celebrities like Britney Spears. Side effects can include anxiety, cold sweats, nausea, diarrhea, increased heart rate and irritability.
Snooki recently told InTouch magazine that she was tired of all the celebrity blogs commenting on her weight. I didn't lose weight for them. I did it for me, she said. She told the magazine that, along with Zantrex, she has turned to diet and exercise.
When I work out and eat right, I feel healthier and happier, she said.
The reality star has been talking about her weight loss for the past few months. She will tweet about her frequent gym trips and cutting back on unhealthy food and alcohol. She reportedly gets the energy to work out from herbal Zantrex-3 Fat Burner, the extreme energy pill for which she is a spokeswoman.
Next up for Snooki is New Year's Eve in Las Vegas. Some speculate that she might be hosting a NYE party, as celebrities often do. My baby! So psyched for Vegas New Years!!!! she tweeted with a photo of LaValle.
The new season of MTV's Jersey Shore starts on Jan. 5.