Snooki's Battle of the Bump With Jessica Simpson: 'I Would Die if I Were Her Size'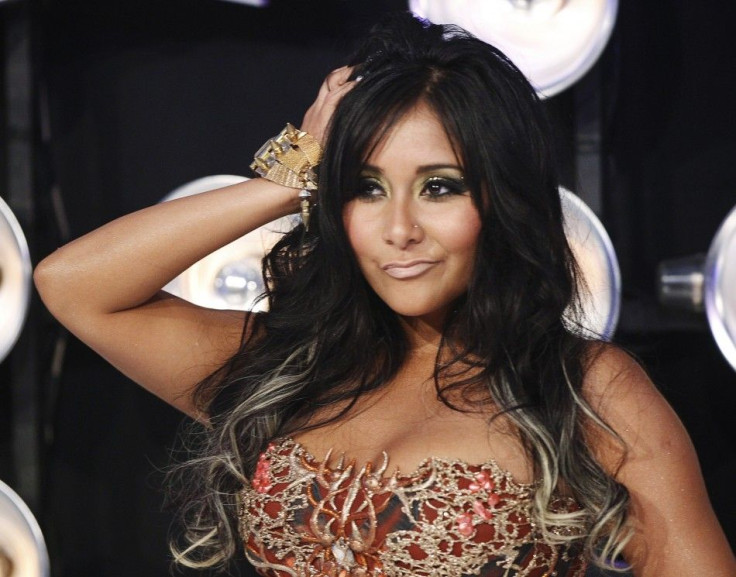 Nicole Snooki Polizzi, who is particularly known for speaking her mind, has gone vocal about Jessica Simpson's mega-sized baby bump, the US Magazine said.
Snooki's snide comment about The Dukes of Hazzard star came about in an exclusive riveting chat with the publication on Thursday, when she said I would die if I were her size. The Jersey Shore star, who is five months pregnant, revealed that is she is staving off any fatty foods unlike Simspon's habit of overindulgence and instead indulges in fruits, lots of jelly and Italian ices to help keep her weight in check, the report said.
The Jersey Shore co-star Pauly DelVecchio also had his say on Simpson's escalating weight gain, telling the magazine, She's like 45 months pregnant right now!
Apparently reveling in her super-slimmed down image, Polizzi beamed that she's not yet into maternity sizes. I'm so skinny that I can wear larges or extra larges. I only just bumped up to a medium. I'm five months and you can't really see anything. It's gonna pop up in like a week, the 24-year old was quoted saying, according to the magazine.
Simpson's unusual weight gain during her pregnancy has been under a lot of scrutiny lately, which the 31-year-old singer explains as being due to excessive amniotic fluid.
Apparently I have a lot of amniotic fluid, so whenever my water breaks it will be like a fire hydrant! she said according to a Daily Mail report.
Speaking about her impending motherhood, Snooki said that her newborn will have a natural tan from birth, assuring that she won't spray tan her baby. If you look at me and Jionni, we're very dark, so luckily the baby will be very dark, she said to the magazine.
The reality star, who's likely to give birth sometime in September this year also added that her baby will be dressed exclusively in Jersey Shore attire if born a girl. If it's a boy, I would dress him like Pauly, she said to the magazine.
© Copyright IBTimes 2023. All rights reserved.
FOLLOW MORE IBT NEWS ON THE BELOW CHANNELS