Snow Storm Political Test For Northeast Officials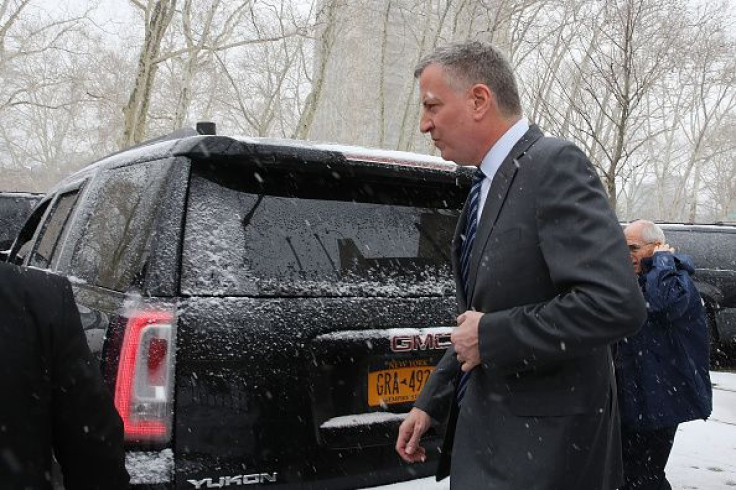 WASHINGTON -- With an icy blizzard bearing down on the Northeast, elected officials representing the snowbound states were on the hot seat. There's nothing like a natural disaster to show that a politician is communicating and running the government effectively -- or to create a damaging impression of disengagement and incompetence.
It's a trial by snow. Voters -- and the entire nation -- will watch as a handful of mayors and governors are assessed on their ability to clear streets, respond to emergency situations and get the power restored in the hardest hit areas. If natural conditions are truly apocalyptic, constituents will be understanding -- for a little while. But they want to hear from their officials regularly and have confidence efforts are being made to fix the problem.
"A leader like a governor or a mayor simply cannot pour enough energy into managing the response to these big weather events and natural disasters," said Bob Mann, a political communications professor who served as former Louisiana Gov. Kathleen Blanco's communication director during Hurricane Katrina. "Too much is not enough. You might not get much credit for a flawless execution, but you will usually get blamed for the failures. Careers rise and fall on these things. This is no time to outsource your leadership or phone in the response."
There are a number of officials getting their first big test with the impending storm. Massachusetts Gov. Charlie Baker took office only weeks ago. Boston Mayor Marty Walsh has been in office a year.
New York Mayor Bill de Blasio is likely facing his biggest test in this storm. He was criticized during a snowstorm last winter for not closing the city's public schools, arguing that doing so would make it difficult for working parents who would need to find emergency child care. Even if New York isn't the hardest hit, it often gets the most attention in such weather events. CNN already sent its reporters to the streets of New York Monday afternoon, making the city's snow-plowing efforts into a real-time cable news event for the entire nation.
And de Blasio could use some positive press. He's in a feud with the New York City Police Department in the wake of the shooting of two officers in December, which some police leaders blamed on de Blasio's apparent sympathy with demonstrators protesting the deaths of two black men at the hands of police.
No one expects their officials to be out working the snow plows, but a breakdown in operations quickly becomes their problem. They might want to take a lesson from Cory Booker, who, as a Newark mayor, picked up a shovel and cleared some sidewalks himself, earning political dividends. Booker used Twitter to coordinate his city's response and gained national praise as a result.
Uncleared streets don't just annoy voters -- they're a highly visible sign of government failure. The average citizen has little interaction with government operations aside from the local Department of Motor Vehicles. But every resident trying to move a snowed-in car or cross a blocked intersection sees evidence the government isn't working. A year ago St. Louis Mayor Francis Slay was buried in a blizzard of criticism after he left many of the city's side streets unplowed. A Chicago mayor lost his re-election bid in 1979 because a slow cleanup became shorthand for administrative incompetence, and the Denver mayor's career ended after at botched response to a Christmas Eve snowstorm in 1982. And there's always the delicate question of which streets get attention first. According to one (perhaps apocryphal) tale, the mayor of the District of Columbia made an enemy of the Washington Post when the street on which the paper's then-owner, Katharine Graham, lived didn't get plowed early.
New Jersey Gov. Chris Christie learned that the hard way when he remained on a Disney World vacation as a blizzard hit his state in 2010. It wasn't a mistake he repeated. When Hurricanes Irene and Sandy struck the next two years, he was a constant presence on the news, updating residents on conditions and becoming, for many, reassuring proof of the government's engagement and concern. Christie was again at the helm this week. He held a news conference in a garage with snow plows Monday.
Former New York Mayor Mike Bloomberg saw what happens when the city doesn't get the snow moved quickly. In the same 2010 storm that produced problems for Christie, Bloomberg also was criticized when it took days to clear main arteries.
If Christie and Bloomberg have taught de Blasio some political lessons, the streets of New York will be snow-free as quickly as possible.
© Copyright IBTimes 2023. All rights reserved.
FOLLOW MORE IBT NEWS ON THE BELOW CHANNELS