Snowstorm In Boston, NYC And More: Weather Forecasts 12 Inches In Northeast
KEY POINTS
Winter weather advisories are already in place ahead of approaching storm
A developing nor'easter could bring a heavy bout of freezing rain to Washington D.C.
Major snow events like these usually develop between November and April
The National Weather Service has issued a series of winter storm alerts across the mid-Atlantic and the Northeast, with snowfall totals of as much as 12 inches possible in some areas.
The first major nor'easter of the season earned the nickname Winter Storm Gail from The Weather Channel. Nor'easter is used to describe a major storm system that develops in the North Atlantic. These storms are usually accompanied by very heavy snow and occasional coastal flooding.
"Significant winter storm impacts are not only possible in the interior Northeast, but also along parts of the Interstate 95 corridor from Boston to New York and Philadelphia," a forecast from The Weather Channel read.
The weather offshore is expected to intensify during the week as it runs into a strong high-pressure system brewing in eastern Canada that will give the nor'easter a fresh supply of cold air as it develops.
Heavy rains are already developing along the U.S. East Coast. The National Weather Service issued a winter weather warning Monday for parts of Virginia, though little to no snow accumulation is expected.
That situation changes by Wednesday. If all of the necessary ingredients come together, The Weather Channel forecast stated, "[W]e could be looking at one of the more impactful Northeast winter storms in the last couple of years."
Forecasts and advisories from the National Weather Service are fluid for areas that could be impacted by the storm. For Stanley, Va., where a storm warning is in place, the forecast for Wednesday advises only of "heavy snow."
For parts of New York, the Virginias, Maryland and Pennsylvania, the weather service expects an early coating of perhaps 3 inches in higher elevations, but total snow accumulations of greater than 7 inches are possible.
For Boston's Logan International Airport, the forecast Wednesday is for "blustery" conditions, with as much as 7 inches of snow possible. The nation's capital could see a heavy dose of freezing rain, while New York City can expect 1-2 inches of snow on Wednesday.
Accuweather, meanwhile, adds the storm could be even more severe. Their forecast calls for as much as 18 inches of snow in New Jersey and up to a foot of snow for parts of eastern Pennsylvania.
CNN predicts 8-14 inches are possible in New York City.
The system should weaken toward the end of the week. Boston can expect mostly cloudy skies with highs near 42 degrees Fahrenheit during the weekend.
Nor'easters typically develop between September and April. Much of the area under the current warnings were ravaged in 2012 when a similar storm system followed the path of Superstorm Sandy, one of the costliest storm events in U.S. history.
A nor'easter dubbed The Great Blizzard of 1888 dumped more than 40 inches of snow, mostly on New York state, and left 400 people dead.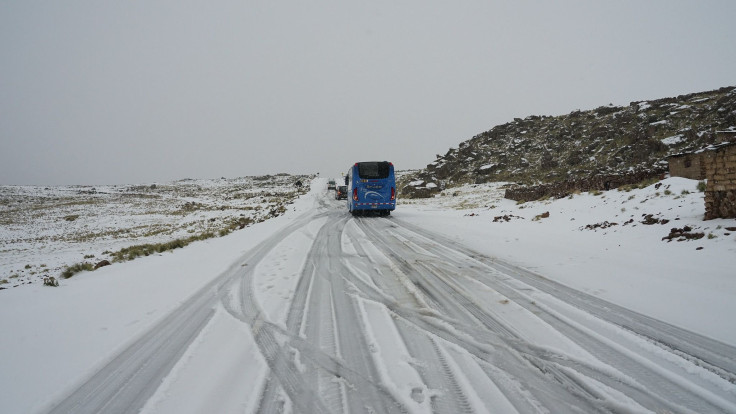 © Copyright IBTimes 2023. All rights reserved.