Some Salesforce Employees Just Found Out They Were Part Of January Layoffs
KEY POINTS
200 employees at Dublin branch found out Thursday they were part of January layoffs
The company's 'restructuring plan' included cutting its global workforce by 10%
This also affected 10% of Slack's workforce, which was acquired by Salesforce in 2021
Several Salesforce employees just found out Thursday that they were part of the January layoffs the company announced earlier last month, a new report revealed. The San Francisco-based software company said in early January that they were undergoing a "restructuring" that includes layoffs of 10% of its global workforce.
Salesforce is letting 200 of its 2,100 employees at its Dublin branch, The Irish Independent reported Thursday. "These are part of the reductions we announced in January," a spokesperson told the outlet.
The company said it remains "committed" to its Irish customers and looks to pursue investments in the country.
One Salesforce employee has taken to Twitter to reveal that his team was affected by the recent layoffs.
"I was informed today that my team was part of the recent layoffs at @salesforce," Account Manager Nathan Gastineau wrote Thursday, adding that "there were a lot of folks that were impacted."
Some directors "have been cut," The Platformer's managing director Zoë Schiffer also shared on Twitter Thursday.
The "restructuring plan" Salesforce announced on Jan. 4 included cutting its global workforce of about 7,000 employees "by approximately 10 percent."
The January layoffs have also reportedly affected 10% of Slack's workforce. Salesforce acquired Slack in 2021.
The restructuring came as Salesforce was put under pressure to cut expenses by activist investors who may want to increase profitability and reduce spending, TechCrunch reported.
During an all-hands meeting in January that discussed the restructuring plan, employees reportedly took to their Slack channels to express disappointment over their questions being left unanswered, Insider reported.
The outlet reported that one executive "apologized" in a succeeding meeting due to resentment expressed by employees on Slack. The lack of transparency made many managers feel blindsided, as per the Insider.
CEO Marc Benioff has also reportedly hinted during the said meeting that more job cuts would come after the early January reductions, as per CNBC. At the time, Benioff reportedly expressed concerns about a lack of productivity in the sales unit.
Meanwhile, Salesforce's chief technology officer of security Taher Elgamal left the company about a week after the workforce cuts were announced, marking the second top-rank Salesforce leader to leave the company since Executive Vice President Mark Carter departed in November.
The company has been struggling with investor pressure regarding improved profit, but it has also been suffering from slowing growth.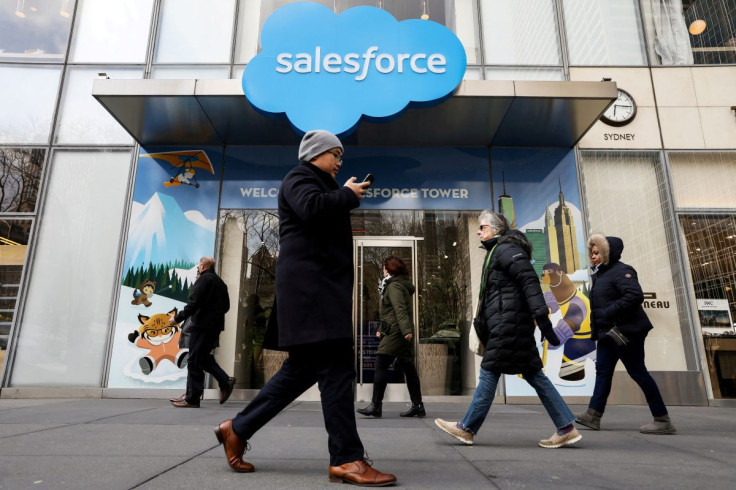 © Copyright IBTimes 2023. All rights reserved.