Sony Hack 'The Interview': Hollywood Reacts To Decision To Pull Movie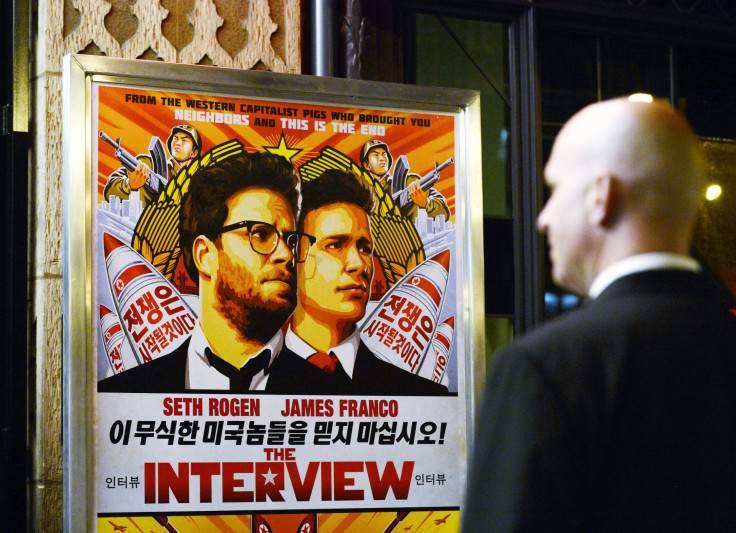 In a plot twist straight out of a Hollywood thriller, Sony Pictures Wednesday announced it no longer plans to release "The Interview" -- a comedy involving the assassination of North Korean leader Kim Jong-un -- out of safety concerns for audiences following terrorist threats from hackers believed to be associated with North Korea.
Sony's announcement came after hackers threatened to attack American movie theaters showing the comedy, which stars James Franco and Seth Rogen as journalists asked by the CIA to kill Kim Jong-un after landing an interview with him. Following the threats, the largest movie theater chains in the U.S. -- AMC, Carmike Cinemas, Cinemark and Regal -- and many smaller theaters announced they would not be showing the movie. Sony said it planned to cancel the film's Christmas Day release; later it clarified that it "has no further release plans for the film," according to the Los Angeles Times.
"We respect and understand our partners' decision and, of course, completely share their paramount interest in the safety of employees and theater-goers," the company said in its statement. "We are deeply saddened at this brazen effort to suppress the distribution of a movie, and in the process do damage to our company, our employees, and the American public. We stand by our filmmakers and their right to free expression and are extremely disappointed by this outcome."
Sony's announcement spurred reaction across Hollywood and the twittersphere. Filmmaker Judd Apatow was one of the loudest voices, taking to Twitter to blast the theater chain's decision not to show the film.
"I think it is disgraceful that these theaters are not showing 'The Interview,'" Apatow tweeted. "Will they pull any movie that gets an anonymous threat now?"
Former Speaker of the House Newt Gingrich also took to Twitter to talk about the larger ramifications of the studio's decision.
"No one should kid themselves. With the Sony collapse America has lost its first cyberwar. This is a very very dangerous precedent," Gingrich tweeted.
But in Hollywood many of the most important organization in entertainment remained mum. The Screen Actors Guild - American Federation of Television and Radio Artists declined to comment, while the Motion Picture Association of America, the Directors Guild of America and the Academy of Motion Picture Arts and Sciences did not respond to requests for comment. One organization that did weigh in was the First Amendment Coalition, which noted that this is a challenging time.
"Freedom of speech is a fragile thing. It's something that everybody depends upon, and all it takes is one cowardly jerk making seemingly credible threats to suppress other people's constitutionally protected right to speak or right to make a film or right to view a film," said Peter Scheer, the organization's executive director. "I wish that [Sony] could've seen their way clear to not giving in to a threat of terrorism, but I also understand that they have concerns that are undoubtedly legitimate and that they have to address in a responsible way."
Since hackers began harassing Sony by releasing company emails, movies and employee information in late November, news outlets have been reporting on the information every day. Award-winning screenwriter Aaron Sorkin criticized this practiced and put part of the blame for Sony's decision on the media.
"The wishes of the terrorists were fulfilled in part by easily distracted members of the American press who chose gossip and schadenfreude-fueled reporting over a story with immeasurable consequences for the public–a story that was developing right in front of their eyes. My deepest sympathies go out to Sony Pictures, Seth Rogen, Evan Goldberg and everyone who worked on The Interview," Sorkin said, according to Deadline.
Meanwhile, Daniel Lay, co-founder of the Assn. of Digital Artists, Professionals and Technicians, said he believes Sony overreacted. So far, no government organization has said there was a credible threat.
"It's just to avoid the media reporting some of the leaks that have been coming out so far," Lay said.
Scott Ross, the former chief executive of visual effects and digital production company Digital Domain, said it's outrageous that Sony did not have tighter cyber security in place and that cyberterrorists could block a movie's release, but he understood Sony's decision since "the safety of the public and the consumer is of utmost importance."
This attack is an indication of what's to come for Hollywood and all other kinds of organizations, Ross said.
"I hope this is all just a sham, and I hope Sony just has a bad movie and they're trying to milk it for as much press as they can get," Ross said. "But I doubt it. I think it is the beginning of something that's really scary."
© Copyright IBTimes 2023. All rights reserved.