SOPA Bill Protest: Will Facebook, Google and Twitter 'Blackout' the Internet?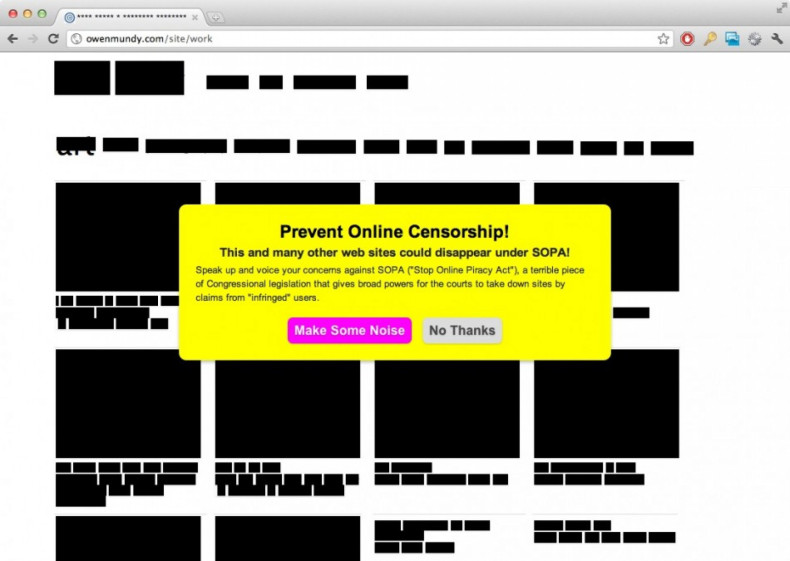 As the Stop Online Piracy Act (SOPA) threatens the future of online media, some of the Internet's heaviest hitters are considering a coordinated blackout of their sites, with sites like Google, Facebook, Twitter and Amazon all ready to protest the controversial bill.
SOPA, a bill backed by the motion picture and recording industries that aims to cut down online piracy in part by block access to sites that infringe on copyrights (for all the details on SOPA, click here).
But NetCoalition, a trade association that includes Google, PayPal and Twitter, argues that SOPA will end up dramatically restricting what the Internet is capable of, undoing the safe spaces created by the Digital Millennium Copyright Act (DMCA). They also argue that its passing will change the Internet as we know it.
Coordinated Blackout
The details of how a coordinated blackout would work are unclear, but Markham Erickson, the executive director of NetCoalition, says plans for the protest are already under way.
Mozilla had a blackout day, and Wikipedia has talked about something similar, Erickson told FoxNews. A number of companies have had discussions about that.
With the Senate set to debate SOPA legislation in January 2012, the blackout would be an unprecedented but potent move by Internet giants like Facebook and Amazon.
CNET called it the nuclear option, and said the effect would be far more wide-reaching than previous efforts like Tumblr's American Censorship Day and yesterday's Dump GoDaddy Day.
When the home pages of Google.com, Amazon.com, Facebook.com, and their Internet allies simultaneously turn black with anti-censorship warnings that ask users to contact politicians about a vote in the U.S. Congress the next day on SOPA, Declan McCullagh wrote, you'll know they're finally serious.
The Internet Bites Back
But if the polarizing law would be so devastating to the online community, then why haven't these Internet giants done something like this before?
Actually, they have. On Nov. 15, Google, Facebook, Twitter, Zynga, eBay, Mozilla, Yahoo, AOL, and LinkedIn wrote a letter to Washington warning of SOPA's dangers. We are concerned that these measures pose a serious risk to our industry's continued track record of innovation and job-creation, as well as to our Nation's cybersecurity, the letter said.
Google co-founder Sergey Brin personally denounced SOPA as dangerous, far too over-reaching, and largely ineffective in the areas it might to target.
While I support their goal of reducing copyright infringement (which I don't believe these acts would accomplish), I am shocked that our lawmakers would contemplate such measures that would put us on a par with the most oppressive nations in the world, Brin wrote on Google+ earlier this month.
A coordinated blackout, however, is far more extreme than a letter, which is why these online powerhouses have held off so far.
This type of thing [a mass protest] doesn't happen because companies typically don't want to put their users in that position, Erickson explained.
The difference is that these bills so fundamentally change the way the Internet works. People need to understand the effect this special-interest legislation will have on those who use the Internet.
Support for SOPA
It is an understanding that has surpassed many companies, who argue that the SOPA legislation is necessary to combat the rampant spread of piracy, no matter what the cost.
Companies like 3M, Adidas, Burberry and CVS have come out in support of the controversial bill, as well as (briefly) GoDaddy. News Corp., the parent company of Fox and publications like The Post and Harper Collins Publishers, also supports SOPA.
Rogue web sites that steal America's innovative and creative products attract more than 53 visits a year, the U.S. Chambers of Commerce wrote in a letter to the editor of The New York Times. [These sites] threaten more than 19 million American jobs.
'People take the Internet very personally.'
But as the Senate vote grows closer, opposition to the SOPA legislation has been growing. And Erickson believes that as sites like Facebook, Google and Twitter begin to take a stand, that opposition will only grow.
[This backlash] is just the top of the iceberg in terms of response, Erickson said.
People take the Internet very personally... It's a very important part of their lives.